It has been described as offering unmatched sportiness but remains suitable for use every day, and the new Audi RS 3 car lease range does not disappoint.
And if you want an impressive car delivering a top speed of 180 mph, and a 0 to 62 mph sprint time of just 3.8 seconds, then this is an excellent car to consider.
Audi says the new model offers the best experience in driving dynamics and along with the impressive levels of performance, it's still a practical car.
This is the third generation of the Audi RS 3 Sportback, while it's the second generation for the RS 3 saloon, this is a premium sports car.
Contract hire Audi RS 3
The power for the contract hire Audi RS 3 comes from a 2.5-litre TFSI engine producing 400 PS.
The five-cylinder unit has won – for nine consecutive years – the 'International Engine of the Year' award.
This compact sports car has torque of 500Nm, while the speed is restricted to 155 mph – though the higher top speed of 174 mph is available in the Vorsprung and Launch Edition models.
If you fancy the top speed of 180 mph, then you need to opt for the RS dynamic package which includes ceramic brakes.
Seven-speed dual-clutch transmission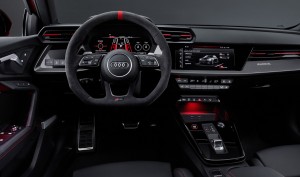 The Audi RS 3 utilises a seven-speed dual-clutch transmission to deliver the power with drivers enjoying short shifting times.
There's also a variable flat control system for the exhaust to help broaden the car's sound characteristics.
There's also a torque splitter fitted as standard to replace the rear axle differential.
The new technology to deliver dynamic driving also helps generate controlled drifts where possible as the torque splitter directing power to just one of the rear wheels.
Interior for the RS 3 is impressive
As usual, the interior for the RS 3 is impressive, with a sporty design.
The Audi virtual cockpit features a 12.3-inch display which also shows the power and torque as a percentage, so drivers know what the engine is doing.
Also fitted as standard is a multifunctional leather steering wheel that has a flat bottom, along with zinc shift paddles.
The 'design package' adds the RS badge and a 12 o'clock stripe to show the steering wheel position.
Prices for the new Audi RS 3 car lease range starts at £50,900 for the Sportback, and rises to £59,650 for the RS 3 saloon Vorsprung model – which makes checking out the contract hire deals worth considering.