This is the impressive new Volkswagen Golf R Estate car lease model and it's the most powerful and dynamic version yet.
Along with more space, there are lots of innovations for drivers to enjoy.
VW's 4Motion all-wheel drive is fitted as standard with torque vectoring to boost agility, particularly when cornering at speed.
The boot size is a spacious 1,642 litres with the rear seats folded, and this new estate offers a striking design.
Contract hire Volkswagen Golf R Estate
The contract hire Volkswagen Golf R Estate uses a 2.0-litre engine producing 320 PS and torque of 420Nm.
This delivers a 0 to 62 mph sprint time of 4.9 seconds with the power being delivered by an R-specific dual clutch seven-speed transmission.
The top speed for the estate is restricted electronically to 155 mph, though there's an optional R performance package to boost the speed.
Drivers also get 19-inch wheels and various assistance systems to deliver comfort, safety and convenience.
Great feature for the R Estate lease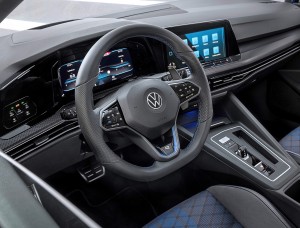 However, one great feature for the R Estate lease is the addition of driving modes to deliver impressive performance.
The 'Special' mode, also known as the Nurburgring mode, drivers get better throttle and gear responses to deliver speed and performance.
But for real fun behind the wheel, there's a 'Drift' mode for delivering power slides.
Despite all of this fun, it's still a Golf Estate with the usual characteristics that drivers expect.
That means it's still a family-friendly car and a versatile all-rounder.
Equipment for the Golf R Estate
Equipment for the Golf R Estate includes a multifunction leather steering wheel and design touches to indicate this is a special R Estate.
The redesigned driver's controls now feature touchscreens, buttons and sliders to replace the analogue displays and controls.
The R-specific Digital Cockpit Pro delivers various features, including the speed along with a lap timer in the digital display for track racing.
There's also a new infotainment offering with connectivity and access to various online services from Volkswagen.
Space for the stylish estate
The extra space for the stylish estate comes from a wheelbase that is 66mm longer than the Golf.
This delivers plenty of space for rear seat passengers and a boot size of 611 litres.
There are other R-specific elements for the sportiest Golf Estate ever created including air deflectors, and a front bumper with a splitter.
Drivers will also get used to the vehicle dynamics manager which controls the adaptive chassis control and electronic differential to deliver agility and performance.
The new Volkswagen Golf R Estate car lease is an impressive creation to deliver real driving pleasure.