This is the stylish and impressive Volkswagen Polo GTI car leasing range which will impress as a 'hot supermini'.
The Polo GTI is in its sixth generation and features a sports chassis and a more powerful TSI engine.
VW says this will transform its best-selling compact vehicle into a four-door, dynamic sports car.
There's also semi-automated driving available as an option on the Polo GTI for the first time.
Contract hire Volkswagen Polo GTI
The contract hire Volkswagen Polo GTI semi-automated driving system is called IQ.Drive and will take over the accelerating, braking and steering of the car to make life easier for the driver.
It utilises the adaptive cruise control and lane keeping assist to keep the car and occupants safe -though drivers must keep their hands on the steering wheel when the system is used.
There's also a new infotainment system with excellent connectivity and various online services.
The system uses voice control, and it is also smartphone compatible.
The digital instrument display is 10.25 inches, and this can be altered by the driver for better viewing.
Leasing the VW Polo GTI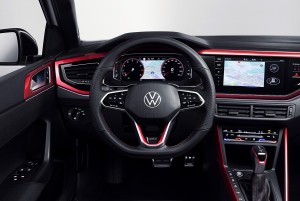 However, it is for the startling levels of performance that those leasing the VW Polo GTI will be most interested in.
Under the bonnet, there's a four-cylinder 2.0-litre turbocharged petrol unit producing torque of 320Nm.
The sporty offering is only available with a seven-speed dual-clutch transmission and when using launch control, it will sprint from 0 to 62 mph in 6.5 seconds.
The top speed for the new GTI is 149 mph.
Handling for the Polo GTI
Handling for the Polo GTI is boosted with an electronic differential lock that is fitted as standard.
The ride height has been lowered by 15 mm to boost agility and cornering, and there's the option of fitting adaptive dampers too.
Equipment levels are particularly impressive, there's quite a lot of kit normally found on more expensive and larger models, including matrix LED headlights, cross traffic alert and autonomous emergency braking.
As should be expected, the Polo GTI is fitted with sports seats with the firm's check pattern upholstery and the car is only available as a five-door offering.
It is still a practical and stylish car with a boot size of 351 litres.
The full specification and prices for the new Volkswagen Polo GTI car leasing range will be revealed later this year when deliveries will begin.