It has been called a 'statement vehicle' and the BMW i4 car lease model is an impressive all-electric offering – with a potential of delivering 366 miles of range.
It's available from November and the i4 is the firm's first premium all-electric vehicle that is aimed squarely at the mid-size segment.
The i4 offers a combination of long-distance ability and sportiness, with a lightweight design and an efficient drive system.
There's also a lot of technology onboard, along with cutting edge parking assistance and automated driving innovations.
Contract hire BMW i4
Beneath the four-door gran coupe body style of the contract hire BMW i4 is the firm's fifth generation of their eDrive technology.
With this, drivers get the latest charging technology and power electronics, along with a high-voltage battery.
The new vehicle also uses iDrive and the Operating System 8 to deliver an excellent user experience.
Indeed, BMW says that the new operating system offers drivers all the tools they need for a proactive and intelligent driving experience.
From launch, there will be three variants – including the first ever M model with all-electric drive from BMW.
Equipment for the new i4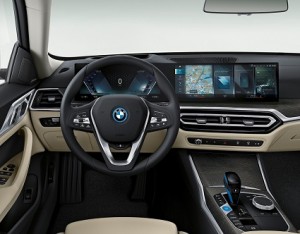 Standard equipment for the new i4 includes 18-inch aerodynamic alloy wheels and Live Cockpit Plus to deliver an impressive digital display.
Drivers also get parking assistant, a reversing camera, ambient lighting and automatic air-conditioning. There also LED lights at the rear and front of the vehicle.
The all-electric offering also has a sound system when being driven at low speeds to alert other road users and pedestrians that the car is approaching.
As usual, there's a long list of options to help personalise the BMW i4 to their individual requirements.
Interior for the BMW i4 lease
The interior for the BMW i4 lease is an impressive place and delivers a modern and premium ambience.
The driver-focussed cockpit features a low and slim instrument panel and the firm's 'Curve Display' that consists of two frameless displays to work as one.
The information display is a 12.3-inch offering, while the instrument display measures 14.9-inches.
The big attraction is that the curve display appears to stand freely within the cockpit but is held in place by a dedicated supporting structure.
The displays also use anti-reflective glass so drivers can read the instrument binnacle without having to shield the readouts from strong sunlight.
There's a lot to like about the first ever BMW i4 and as an electric car, it is entering a competitive segment but looks likely to set the bar.