The compact SUV Renault Captur E-Tech car lease offering boosts the powertrain choice for the range.
The big difference here is that the battery is recharged mainly using regenerative braking so there's no need to plug the E-Tech hybrid in for charging.
The SUV delivers low running costs and responsive performance.
Renault says that their offering is as efficient as a diesel engine and the new Captur E-Tech is the most powerful and efficient version in its range.
Contract hire Renault Captur E-Tech hybrid
The contract hire Renault Captur E-Tech hybrid uses the same tech as was seen on the new Clio E-Tech.
This means drivers get a 1.6-litre petrol engine, along with a 1.2kWh lithium-ion battery.
The battery powers two electric motors and there's an automatic transmission to help deliver the power.
The Captur E-Tech starts up in electric mode to deliver a refined and smooth drive.
The powertrain in the vehicle has been heavily influenced by Renault's Formula 1 setup and the clutchless gearbox will show this.
Power output for the new Renault Captur E-Tech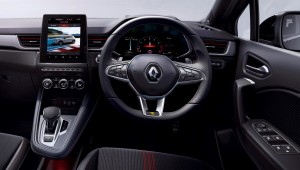 The combined power output for the new Renault Captur E-Tech hybrid is 145hp and it delivers a sprint time of 10.6 seconds.
The top speed is 106mph and drivers should expect fuel economy of 57mpg and emissions of 114g/km.
Those figures make it an interesting choice for company car drivers and personal contract hire drivers alike.
There are three driving modes that range from all-electric, to standard driving using the engine and using a mixture of the two – especially when extra power is needed when accelerating.
Captur E-Tech lease model
The Captur E-Tech lease model is also a safe car and has five stars from Euro NCAP tested for safety.
There's plenty of safety equipment onboard including lane keeping assist, lane departure warning and automatic emergency braking.
There's also traffic sign recognition with standard equipment including 18-inch alloy wheels and roof bars.
Drivers also get a 7.0-inch portrait touchscreen that is smartphone compatible with a DAB radio and Bluetooth.
The Captur E-Tech also has ambient lighting and a 7.0 digital instrument display.
The vehicle features LED headlights, rear and front parking sensors, plus there's a rear-view camera and electronic parking brake.
Prices start at £24,500 which makes a car lease deal for the Renault Captur E-Tech an avenue worth exploring.