This is the latest addition to the coupe-SUV segment and the all-new Renault Arkana hybrid car lease range will impress.
The firm has now unveiled the specification and pricing for its latest SUV that will now sit alongside the Kadjar and Captur.
There's a sleek exterior styling to underline its dynamic coupe design, and the cabin offers practicality and the latest technology.
Renault says the new Arkana has seamless connectivity options and comfort levels are high to boost the driving experience.
Contract hire Renault Arkana hybrid
The contract hire Renault Arkana hybrid is available in a range of trims and the standard kit includes the firm's impressive touchscreen display along with LED lighting, alloy wheels and smartphone compatibility.
The interior consists of high-quality materials and there's a sophisticated feel for a cabin that has been well put together.
It's based on the same platform as the latest Captur and Clio and comes with the firm's advanced driver assistance system.
Engines include the TCe micro-hybrid petrol engine and the E-Tech hybrid.
Renault's first purpose-built hybrid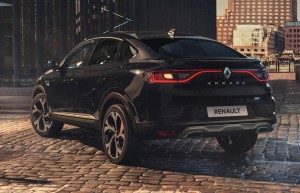 This is Renault's first purpose-built hybrid and is aimed at broadening its electric offering.
There's a 1.6-litre petrol unit that is mated with two electric motors and a 1.2kWh lithium-ion battery.
This delivers a responsive and economical vehicle and will be, Renault says, the engine of choice for customers.
This combination of electric and petrol power produces 145 hp and combined torque of 398Nm.
The offering has fuel consumption of 58mpg, with emissions of 111g/km.
Arkana will drive in all-electric mode
When started, the Arkana will drive in all-electric mode and will carry on doing so while there's enough battery charge.
The switching between the engine and the electric motors is seamless and the motors will be called upon when the driver depresses the accelerator for more power.
In 'Sport' mode, drivers get the full torque and power capabilities from the powertrain, while there's an EV button to boost battery power.
The micro-hybrid technology features a 1.3-litre petrol engine producing 140 hp and torque of 260Nm.
Fuel consumption for this model is 49mpg, with emissions of 131g/km.
Lots of technology and safety equipment
The new Arkana offers lots of technology and safety equipment including a rearview camera, rear and front parking sensors plus cruise control.
The entry-level model features a 7.0-inch display with smartphone compatibility and DAB radio.
Drivers also get an active emergency braking system, hill start assist, traffic sign recognition and lane departure warning.
There's also a 4.2-inch digital instrument display, automatic wipers and lights and tinted rear windows.
Models in the Arkana car leasing range
Other models in the Arkana car leasing range include larger alloy wheels, a 9.3-inch colour display with Google traffic and search information, plus there's a 7.0-inch digital instrument panel.
The cabin features ambient lighting, an auto-dimming rearview mirror and safety kit includes traffic sign recognition and adaptive cruise control.
There's also rear cross traffic alert, blind spot warning and an electronic parking brake.
The Arkana R.S. Line offers a sportier trim with double chrome tailpipes, sports seats, black interior roof lining, aluminium pedals, easy park assist and a frameless rearview mirror.
The all-new Renault Arkana hybrid car lease range brings an interesting and stylish offering to a competitive segment, and the contract hire deals worth searching out.