This is the all-new Nissan Qashqai car lease model that is available to buy now.
Prices for the third-generation SUV start at £23,535 for the Visia entry-level model.
While there are no e-Power hybrid models in the line up just yet, there's a new mild-hybrid 1.3-litre petrol engine producing 138 bhp.
The turbocharged unit has been mated with a manual gearbox to deliver an excellent family car.
Contract hire Nissan Qashqai
The contract hire Nissan Qashqai sees a more powerful version of the 1.3-litre petrol engine producing 156 bhp being offered for the Acenta Premium.
It's also available with automatic transmission, and some models also have the option of four-wheel drive.
The new Nissan has been overhauled from the ground up with more practicality, improved safety and in-car technology and new styling.
Since it was first unveiled in 2007, the Qashqai went on to establish the popular crossover sector for family cars.
Qashqai is slightly larger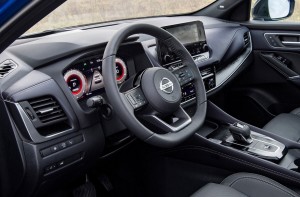 The Qashqai is slightly larger than the model it replaces to create more space on board.
The range has a choice of 11 exterior colours, plus there's the option of a floating roof effect with five colours to make a combined choice of 16.
The alloy wheel sizes range from 17 inches to 20 inches, and the interior is impressive.
The big change is for Nissan to move the infotainment screen to the top of the dashboard, while physical controls have been moved underneath it.
The new nine-inch offering has sharper resolution and offers a range of online services including speed camera information, fuel prices and Google Street view.
Top end trims get larger infotainment displays, and the system is smartphone compatible.
Big change for the new Qashqai
Another big change for the new Qashqai is the dropping of diesel engines from the offering but the addition of mild-hybrid technology.
Eventually, the Qashqai e-Power hybrid will be available, and Nissan says this will be the most fuel-efficient model in the range.
There's no information about how efficient the Qashqai will be but drivers will have a vehicle that is capable of one-pedal driving, which is what the Nissan Leaf offers.
The new third-generation Nissan Qashqai car lease range is an impressive offering for 2021 with the latest design and extra technology making it a very attractive proposition in the crossover segment.