This is the stylish Toyota Camry car lease model that has been revamped for 2021 with more equipment and comfort.
Styling tweaks include a new front bumper to deliver 'street presence', and the rear light clusters have been altered.
There are two trims, and both come with new alloy wheels, they are either 18-inch or 17-inch choices.
The changes help to keep the Camry competitive with the likes of the Vauxhall Insignia Grand Sport and the Skoda Superb.
Contract hire Toyota Camry
The latest contract hire Toyota Camry is available to order now and prices start at £32,260.
Other styling tweaks include extra air vents, a new radiator grille but it's in the cabin that drivers will notice a difference.
The Camry now gets black or beige perforated leather upholstery which have a memory function and are power-adjustable.
Plus, there's a choice of three instrument panel finishes in either a geometric pattern, titanium effect or wood effect.
New 9.0-inch display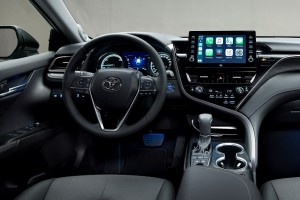 The infotainment system uses a new 9.0-inch display that has been placed on top of the car's dashboard.
The new offering is only available in the Excel spec which is the Camry's range-topper.
It is also smartphone compatible – which the infotainment system was not previously.
The new safety equipment includes emergency steering assist, lane-keep assist and adaptive cruise control.
The more expensive model also comes with a 360° surround-view camera system to help protect the car, particularly when manoeuvring in a confined space.
Toyota has also improved the car's tyre pressure monitoring system that will highlight the specific tyre and the exact fault.
Toyota Camry lease model
The entry level Toyota Camry lease model features LED headlights, 17-inch alloy wheels, rear and front parking sensors, fog lamps and dual-zone air-conditioning.
It also features a 7.0-inch infotainment system that has satnav.
The Excel adds rear privacy glass, keyless entry and a wireless smartphone charger.
For those wanting to lease the Camry, it's only available as a hybrid featuring a 2.5-litre petrol engine with four cylinders, a battery and an electric motor to produce 215 bhp.
The car's top speed is 111 mph and the 0 to 62 mph sprint time is just over eight seconds.
However, the fuel consumption is around 54 mpg, with emissions of 127g/km.