This is the stylish SEAT Ibiza car lease range that has been refreshed for 2021.
The exterior has been updated by the carmaker with LED headlights fitted as standard.
Along with a large floating touchscreen, the interior design sees a modern take for the comfortable environment.
SEAT has also given this compact city car new driver assistance systems including side and travel assist.
Contract hire SEAT Ibiza
The contract hire SEAT Ibiza has been the firm's most popular cars with six million units sold since 1984.
The latest refresh sees the ever-popular creation, now in its fifth generation, maintaining a best-selling status.
The new floating infotainment screen is 20% larger than the version it replaces at 9.2-inches.
The entry-level models get the 8.25-inch version but both have a higher position on the dash.
There's also a 10.25-inch high-resolution digital cockpit for most trims that help push the Ibiza into the digital age.
Completely new soft dashboard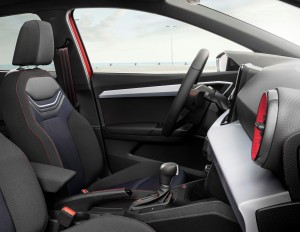 There's also a completely new soft dashboard, a multifunction leather steering wheel and a new ambient lighting system.
Drivers also get more connectivity with the firm's wireless Link system and smartphone compatibility.
The new offering has voice recognition to make using the infotainment system simple and safe and enables the driver to interact with it easily.
There's also online connectivity with the embedded eSIM to remain connected to the digital world.
This system is also incorporated into an emergency call system so should the car be in an accident, it will contact the emergency services automatically with the car's location, and the number of passengers.
2021 SEAT Ibiza car lease line-up
Safety kit for the 2021 SEAT Ibiza car lease line-up includes adaptive cruise control and driver tiredness recognition.
There's also a semi-autonomous driving system that will travel with the flow of traffic at cruising speed.
Drivers also get the choice of three-cylinder petrol engines using either 80 PS, 95 PS or 110 PS.
The engines deliver the power using either a five-speed manual gearbox, or a six- or seven-speed DSG automatic dual-clutch transmission.
The new additions help to make the contract hire SEAT Ibiza more attractive in an increasingly competitive segment and it is worth checking out the car leasing deals before buying.