The Skoda Kodiaq car lease range has been a popular seven-seater SUV choice and now it has been given a revamp.
Along with improved aerodynamics, the options list includes full LED matrix headlights.
The range-topper, the Kodiaq vRS, has also been given a powerful new petrol TSI engine.
The revamped Kodiaq will be in showrooms from July and the car leasing deals will be worth checking out.
Contract hire Skoda Kodiaq
The contract hire Skoda Kodiaq has a new-look interior and the option of ergonomic seats.
The ambient lighting function has also been enhanced and there's the option of eco-seats with some trims offering vegan, recycled seat covers.
Drivers also get a virtual cockpit that features a 10.25-inch display.
Plus, there's a new rear-end protection system that uses radar sensors to detect vehicles that may collide with the Kodiaq.
Engine for the Kodiaq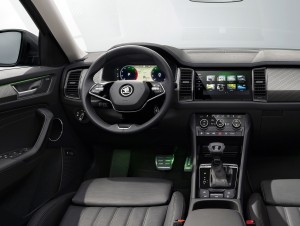 The new engine for the Kodiaq is a 2.0-litre unit developing 245 PS – that's slightly more powerful than the previous turbocharged diesel unit.
The engine is mated to a new seven-speed automatic transmission for fast progress.
Drivers have the choice of two petrol units, there's a 1.5-litre unit producing 150 PS, or a 2.0-litre engine delivering 190 PS.
For those wanting to lease a car with a diesel engine, there's a 2.0-litre turbocharged diesel unit producing either 150 PS or 200 PS.
New advanced infotainment system
There's a new advanced infotainment system featuring a 9.2-inch display with a permanent Internet connection.
Drivers also get a digital voice system – which is fluent in 15 languages – and a range of online features including radio stations.
Skoda is also planning new infotainment apps including whether and news features, and the ability to connect to a personal Google calendar.
The new Kodiaq also features a choice of wheels ranging from 17-inches, to 20-inches.
There's also a new camera system that will detect objects and people in its path and intelligent lighting technology that will work automatically.
Ventilated and heated front seats
Skoda is also adding a new steering wheel to the stylish SUV, as well as ventilated and heated front seats.
The options include a sound system from a specialist audio maker with a 10-speaker setup.
The Skoda Kodiaq is the model that introduced the firm into the world of SUVs and it has proved to be a success since then – and helped lead to the creation of smaller SUVs such as the Kamiq and the Karoq.