This is the stylish new Kia EV6 car leasing offering and it is the first to be built on a dedicated EV platform by the firm.
The EV6 brings zero-emissions, a long-range of 316 miles and ultrafast charging to an increasingly competitive EV world.
Plus, there's the distinctive styling to help it stand out in the crossover SUV segment.
Kia says this is a pioneering vehicle with lots of high-tech details and has been designed with the 'future in mind'.
Kia EV6 contract hire range
Performance for the new Kia EV6 contract hire range comes from a choice of long-range, zero-emissions powertrain configurations.
There's a standard-range battery of 58kWh, or the long-range option of 77.4kWh which will be in the EV6 GT.
The standard battery will sprint from 0 to 62 mph in 6.2 seconds, helped by the torque of 605Nm – though this is only in the all-wheel drive version.
The AWD model utilises an electric motor producing 125kW to power the rear wheels, whereas the all-wheel drive models feature two electric motors to deliver 173kW, or 235 PS.
The EV6 GT model delivers exciting driving performance with a 0 to 62 mph sprint time of just 3.5 seconds.
It helps too that the rapid charging capability means this vehicle will take just 18 minutes to recharge to 80% of the battery's capacity.
Class-leading levels of convenience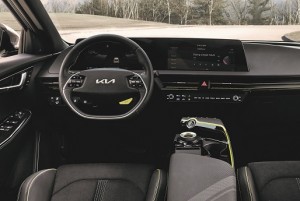 The driver assistance systems on the EV6 set class-leading levels of convenience and safety.
There's lane following assist to help keep the vehicle in the centre of the lane, and highway driving assist to help maintain a set speed and distance from the vehicles in front.
Kia is also adding remote smart parking assist to enter and exit a parking place with the driver standing outside of their vehicle.
The EV6 uses augmented reality for the head-up display system with the car's data being projected onto the windscreen's base so that is in the driver's eye-line.
EV6 features dual 12-inch screens
Other equipment includes a 14-speaker surround sound system and the EV6 features dual 12-inch screens.
These curved displays are home to the infotainment system and the digital instrument display and extend from the steering wheel to the centre.
The order books for the new EV6 will open in May and first deliveries are expected by October.
Prices start at £40,895 which makes the potential car leasing costs for the Kia EV6 worth investigating.