This is the all-new Dacia Sandero car lease model that offers better refinement and quality.
Dacia says that the new range also has advanced safety features and the latest technology.
The range is very popular, and the car makes for a good leasing choice.
The firm says the second generation comes with a new automatic gearbox and a six-speed manual transmission.
Contract hire Dacia Sandero
The new contract hire Dacia Sandero has been built on a new platform.
The offering also includes new engines, as well as the opportunity of leasing a bi-fuel LPG vehicle.
There's also a 1.0-litre three-cylinder petrol engine, and the alternative of a turbocharged unit.
The engines produce power ranging from 65 hp to 100 hp, with fuel economy ranging from 46mpg for the automatic transmission versions, to 55mpg.
Dacia has also unveiled a new continuously variable transmission (CVT) for a sporty driving experience and smoother acceleration.
More aerodynamic and quieter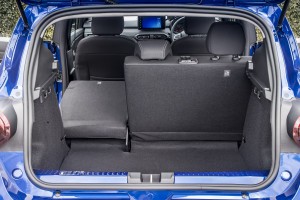 The new model is also more aerodynamic and quieter while on the move.
There's also lots of new equipment onboard including an eight-inch display and smartphone compatibility.
The Sandero also features a new sound system and LED headlights.
Safety features include emergency brake assist which uses radar to detect the vehicle in front and other obstacles.
Drivers also get hill start assist, blind spot warning and some models have park assist as well.
Dacia is also adding a new eCall system that will contact the emergency services should it detect the car has been involved in a collision.
All-new version of the Stepway SUV
The carmaker has also revealed that there is an all-new version of the Stepway SUV with a more muscular stance.
Both vehicles feature new exterior design, refinement and cabins.
These include using more premium materials and introducing a new dashboard.
Dacia says the models also have improved ergonomics for more refinement and comfort to help deliver a rewarding drive.
The all-new Dacia Sandero is available to order now and it's worth checking out the car leasing prices, particularly for the better spec versions.