The excellent Kia e-Niro car lease range has had a long-range 64kW battery added to deliver a range of 282 miles from a single charge.
It helps that the e-Niro is the bestselling EV in the UK so far this year.
And now the order books have opened for the new long-range offering and this is one of the best priced electric vehicles offering that range.
The e-Niro 2 Long-Range can also offer up to 382 miles from a single charge for those who are driving in cities.
Contract hire Kia e-Niro
The long-range battery pack for the contract hire Kia e-Niro 2 uses a 150kW motor for great levels of performance.
The car is also packed with equipment including an 8.0-inch display, smartphone compatibility, a reversing camera and 17-inch aluminium alloy wheels.
The EV also comes with smart cruise control, rear parking sensors and a smart key with push-button start.
Kia has also added a battery heating system so while the e-Niro 2 is recharging, the battery pack is insulated to keep warm and minimise the downside of cold temperatures.
Spacious electric car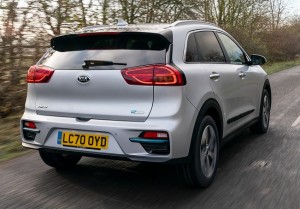 For those who want a spacious electric car, the e-Niro has the same roomy boot and a large cabin as its siblings.
That means there is 451 litres of boot space and plenty of room for five occupants.
Not only is this EV the bestselling battery-powered car in the UK so far this year, but it also accounts for nearly one-in-five of all electric vehicle sales.
Now with the e-Niro 2 Long Range variant, drivers also get access to a new UK-wide public charging service.
This comprehensive access has more than 15,000 charging points and drivers just need one account that they can use across several charging networks.
Price for the e-Niro 2
Kia has also revealed that the price for the e-Niro 2 with the long-range battery is £34,945.
This new price helps keep the car within the price threshold for the plug-in car grant offered by the government.
The new model is available to order now, and the firm says that deliveries of the Kia e-Niro 2 Long Range will begin in July.