This is the impressive all-new Toyota GR 86 car lease model with the carmaker promising it will have 'fun to drive' characteristics.
It's been given a world premiere, and the coupe has been designed for delivering a rewarding drive.
That is down to the low centre of gravity and lightweight of the car to deliver the agile handling that many drivers expect.
This is the third model of the firm's GR sports cars and now sits alongside the GR Yaris and the GR Supra.
Contract hire Toyota GR 86
The all-new contract hire Toyota GR 86 features a new 2.4-litre four-cylinder engine for performance.
That's an uprated version of the GT86's 2.0-litre engine and the power is delivered to the rear wheels.
While details are scarce for the new GR 86, a Japanese version of the same engine delivers 232bhp with torque of 250Nm. The 0 to 62 mph sprint time is 6.3 seconds.
The powerful sports car now takes over from the original GT86 which was unveiled in 2012.
That model then went on to sell more than 200,000 units around the world with drivers enjoying the agility and performance.
This latest model is expected to be the segment's lightest four-seater coupe.
Excellent handling and lightweight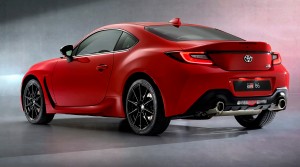 The excellent handling and the lightweight is down to Toyota's initiatives to use aluminium body panels and roof.
Toyota has used nearly identical dimensions for the new sports car as for its predecessor.
The carmaker says that the model will retain the low centre of gravity and handling has been boosted with torsional rigidity.
Indeed, that rigidity has been boosted by 50% for even sharper handling and improve steering.
Leasing the new Toyota GR 86
For those interested in leasing the new Toyota GR 86, the carmaker says that its many years of motorsport competition experience has led to the development of the new offering.
It's not only more aerodynamic but has the introduction of side rocker panels and front air ducts, so drivers will get a car with great stability.
Toyota says that its GR 86 will deliver the segment's best handling sports car.
More details for the all-new Toyota GR 86 will be revealed later this year.