This is the striking-looking Peugeot 308 car lease model that will be on sale later this year.
The new offering has class-leading technology and efficient plug-in hybrid engines – a first for the 308.
The sporty and attractive design will stand out in the compact family car segment where it has been a popular choice for many years.
Indeed, Peugeot says that the new model will set new standards for the segment, particularly safety.
Contract hire Peugeot 308
The contract hire Peugeot 308 is packed with technology, including the latest driving aids.
Drivers get to enjoy the firm's i-Cockpit that has 3D technology, plus an intuitive infotainment system called i-Connect Advanced.
The interior has also been revamped to offer better comfort and more space and there's a premium feel to the finish.
Part of this extra space is due to the slightly longer length of the 308 which is also the first model to feature Peugeot's new roaring lion's head logo.
308 leasing range
Engines for the 308 leasing range include two plug-in hybrid options.
There's the Hybrid 225 which has an automatic transmission and a petrol engine producing 180 HP and an electric motor generating 81kW.
This makes it an attractive option for company car drivers looking for a low benefit-in-kind (BiK) rate emissions of just 26g/km.
The all-electric range for this model is 36 miles.
The alternative plug-in hybrid produces 150 HP and has emissions of 25g/km, and an electric range of 37 miles.
Interior for the new 308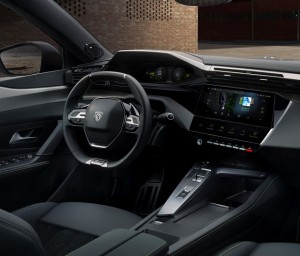 The interior for the new 308 impresses with lots of quality materials being used including the option of coloured Nappa leather.
The new vehicle also features an air quality system that will monitor constantly the quality of air entering the cabin and will activate recycling when necessary.
This is also a quieter vehicle to spend time in with thicker windows, acoustic laminated side panes, and there's a frameless interior rear-view mirror that changes colour when the car is in zero emissions mode.
There's also plenty of safety equipment too including adaptive cruise control, lane keeping assist, traffic sign recognition and driver attention alert.
Features for the new Peugeot 308
Standard features for the new Peugeot 308 include a 10-inch high-definition display that is easy-to-use and as responsive as a tablet.
Drivers can switch between menus the display showing connectivity data, the outdoor temperature as well as air-conditioning information.
The satnav map is displayed across the entire screen and the voice command helps make this an easy feature to use.
Prices and more details of the Peugeot 308 car leasing range specifications will be revealed closer to the official launch date.