The Car of the Year for 2021 is the impressive contract hire Toyota Yaris which was voted for by 59 journalists from 22 European countries.
In second place is the all-electric Fiat 500 which pipped – by just one point – the excellent Seat Cupra in third place.
This is the second time that the prestigious gong has been picked by the Yaris which first won the award in 2000.
Car leasing vehicle delivers impressive handling
The supermini is only available as a petrol-electric hybrid and as a car leasing vehicle it delivers impressive handling.
It's been well-designed and there's a lot of equipment to enjoy onboard too.
The award shortlist also highlighted other great leasing vehicles with the Volkswagen ID.3 in fourth place, and the new Skoda Octavia in fifth place.
In sixth place is the excellent new Land Rover Defender and in seventh place, the last of the shortlisted finalists, is the latest Citroen C4.
Winner in 2020 was the Peugeot 208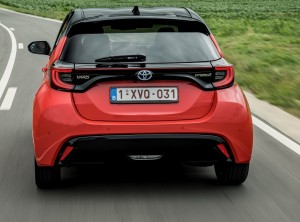 Last year's winner of the prize was the Peugeot 208, and the year before that it was the Jaguar I-Pace.
The vice president of Toyota, Matt Harrison, said: "This is the best Yaris ever and is putting a smile on customer's faces already."
The good news continues for the carmaker with the announcement that the UK's Car of the Year award has also been presented to the new GR Yaris.
The pocket-rocket is the rally-based version of the Yaris and has been extensively re-engineered.
The award to the GR Yaris also brings to an end the dominance of electric cars in the competition – they have won for the last two years.
Impressive vehicles to lease
Both the contract hire Toyota Yaris and the GR Yaris are impressive vehicles to lease.
They have low emissions to make business drivers consider them and have an accessible price point.
They are also both packed with class-leading safety equipment to make them safe cars to drive.
Toyota has also won the Car of the Year award with the Prius in 2005.