In a first for the impressive SUV, the new contract hire Volkswagen Tiguan R has gone on sale.
This is the first time that the Tiguan has had the 'R' makeover and it is a stand-alone performance model.
It's also a very powerful SUV to enjoy with the 2.0-litre four-cylinder turbocharged petrol engine delivering 320 PS and torque of 420.
Tiguan R car lease
The power helps the Tiguan R car lease model sprint from 0 to 62 mph in just 4.9 seconds, and then onto a top speed of 155mph.
That startling performance places the Tiguan R just two-tenths of a second behind the firm's Golf R over the same sprint distance.
The fuel consumption figure for the new model is 29mpg, with emissions of 226g/km.
Power for the Volkswagen Tiguan R lease
The power for the Volkswagen Tiguan R lease is delivered using the firm's seven-speed DSG automatic transmission, and the firm's all-wheel drive system, 4Motion, delivers the grip.
The new SUV also uses the firm's new R-Performance Torque Vectoring System.
This sees the power being managed between the rear and front axles, and also between the two rear wheels to help deliver better grip and agility.
The torque vectoring system also helps to eliminate any understeer and deliver a more rewarding drive.
Adaptive chassis control system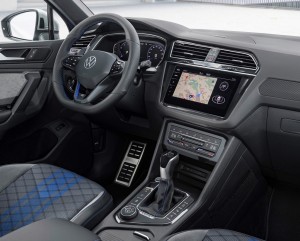 VW has also fitted an adaptive chassis control system and the Tiguan R is 10mm lower than its stablemates.
The new Tiguan R has 21-inch alloy wheels and blue-painted callipers on the front units.
And, just like the VW Golf R, the sport seats in the SUV are finished in blue-black cloth and there's a heated, bespoke steering wheel.
It helps too that the steering wheel features a new 'R' button to enable quick access to the Tiguan R's seven useful and diverse driving modes.
That means there's no need to take hands off the steering wheel to alter the throttle and suspension response.
Plus, there are extended panel shifters to enjoy quick movement through the gears.
Standard equipment builds on the Tiguan R-Line
The standard equipment builds on the excellent kit list for the Tiguan R-Line model and there's digital cockpit pro, keyless start and entry, ambient lighting and a rear-view camera.
This is now the third model in the Volkswagen range that has been given the variant makeover.
The VW Tiguan R is now the flagship for the range and prices start at £45,950 – which makes checking out the car leasing deals an interesting undertaking.