For those wanting to lease the Volkswagen Tiguan and have a quick and capable SUV, then VW has added two new petrol engines to the range.
The line-up has been bolstered by the petrol units that produce 190 PS and 245 PS.
They also benefit from the firm's all-wheel drive system, 4Motion.
Contract hire Volkswagen Tiguan
The new engines for the contract hire Volkswagen Tiguan are both 2.0-litre turbocharged petrol offerings and are the most powerful powertrains available in the range yet.
The smaller engine produces torque of 320Nm, while the range-topping 245 PS unit delivers torque of 370Nm.
The extra power sees the smaller engine sprint from 0 to 62 mph in 7.4 seconds and then onto a top speed of 133mph.
The more powerful 245 PS engine will do the sprint in just six seconds and then onto a top speed of 142mph.
Engines in the Tiguan car lease range
Fuel consumption for the new engines in the Tiguan car lease range are 33mpg and 34mpg respectively.
The CO2 emissions are 194g/km for the smaller engine, and 189g/km for the more powerful unit.
However, the new powertrains are only available in the Tiguan's high-spec Elegance and R-Line trims.
Lots of standard equipment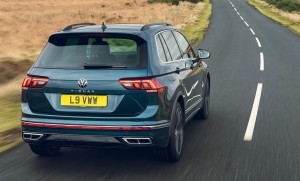 The models come with lots of standard equipment including 19-inch alloy wheels, adaptive cruise control, a panoramic sunroof and matrix LED headlights.
Drivers also get an eight-inch display for the infotainment system and an impressive 10.25-inch digital instrument cluster.
The models also come with customisable ambient lighting and heated front seats.
The R-Line trim offers larger alloy wheels, an aggressive body kit and a sports suspension that lowers the ride height for a sportier performance.
All-wheel drive system delivers grip
The power is delivered using a smooth-changing seven-speed dual-clutch automatic transmission with the all-wheel drive system delivers the necessary grip.
The new engines, plus their impressive performance levels, mean that the Volkswagen Tiguan R-Line 2.0 245 4MOTION is the range-topper.
That is until the arrival of the VW Tiguan R which will take over the performance flagship role.
This will be a first for Volkswagen and it is the first time that their top-selling SUV has been offered an R performance trim.
VW says details about the new Tiguan R will be unveiled soon.
Prices for the Volkswagen Tiguan with the new engines start at £36,275 and have already gone on sale.