The all-new Nissan Qashqai car leasing range has been unveiled for 2021 and there's a lot to like – including a new hybrid powertrain.
The Qashqai is up against stiff competition in its segment, including from the likes of the Skoda Karoq, but this third generation of the bestseller will impress.
Indeed, Nissan has given its Qashqai a thorough overhaul from the ground up.
Drivers now get better styling, more safety equipment, efficient engines and practicality.
Contract hire Nissan Qashqai
In many ways, the contract hire Nissan Qashqai created the trend for crossovers after it was unveiled in 2007.
And the new exterior styling sees the SUV offering more space in the cabin because the car sits on a larger platform.
There's also a new nose and slim LED headlights, and drivers have 11 colour schemes to choose from.
The Qashqai has plenty of equipment including alloy wheel sizes ranging from 17-inches to 20-inches.
Qashqai's infotainment system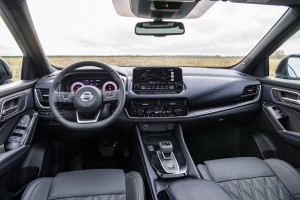 The nine-inch display for the Qashqai's infotainment system delivers sharper graphics and there are more connected services including speed camera information, Google Street View and fuel price data.
The system is also smartphone compatible, plus there's a new digital instrument display.
This uses a 12.3-inch panel which is customisable so drivers can prioritise whether they want entertainment, satnav information or the car's driving data – and it all can be controlled from the new steering wheel.
The top Qashqai trims also get a 10.8-inch display – the biggest in the segment.
New Nissan Qashqai car lease
The new Nissan Qashqai car lease has dropped diesel engines from the range but added a 1.3-litre turbocharged petrol engine with mild-hybrid technology.
This unit produces either 138 bhp or 156 bhp with torque of 270Nm.
The car offers front-wheel drive as standard, and there's the option of four-wheel drive in the most powerful versions.
New Qashqai e-Power hybrid
There's also the new Qashqai e-Power hybrid that uses an electric motor and a 1.5-litre turbocharged petrol engine.
It produces 184 bhp and torque of 330Nm with the powertrain delivering seamless acceleration and instant delivery of the torque.
Drivers will also need to get used to the firm's new one-pedal driving experience, they call it the e-Pedal.
It's a fairly intuitive way of accelerating and slowing down the car by using just the accelerator pedal.
The all-new Nissan Qashqai car lease will prove to be popular because it has a huge army of fans and it has been a bestseller in the UK over many years for lots of reasons – and these have been polished for the new offering.