It is probably the UK's most affordable seven-seater, and the new Ford S-Max Hybrid car lease offers an interesting alternative in a competitive segment.
Ford says that the hybrid has 10% lower CO2 emissions than the diesel-powered S-Max versions.
And now the sports activity vehicle offers efficiency, refinement and convenience with the choice of the petrol-electric hybrid.
It's also close in price to the diesel alternative and there's no compromising on space – even with a large battery onboard.
Contract hire Ford S-Max Hybrid
The contract hire Ford S-Max Hybrid still offers a fun to drive experience and flexibility.
The hybrid version uses a 2.5-litre petrol engine with a 1.1kWh lithium-ion battery, and an electric motor to deliver a combined power output of 190 PS.
This results in a nice driving experience and relaxing long journeys.
Drivers get to choose whether they want to use the pure-electric silent driving offering, or the petrol-fuelled alternative when behind the wheel.
Attractions for the S-Max Hybrid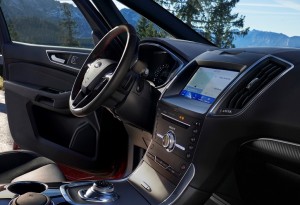 One of the big attractions for the S-Max Hybrid is the battery is charged automatically using regenerative technology which comes into play whenever braking or coasting.
The S-Max offers up to 2,020 litres of capacity and can tow up to 1,560 kg.
Standard equipment for the new hybrid includes Wi-Fi connection for up to 10 devices and the satnav includes live traffic updates.
The car also includes a vehicle locator offering with the FordPass smartphone app which also highlights any local hazards that may be encountered.
New Ford Galaxy Hybrid car lease
It's also worth mentioning that the new Ford Galaxy Hybrid car lease has also been unveiled.
The Galaxy Hybrid offers 2,339 litres of cargo space and room for seven people.
Fuel economy for both hybrids is around 44mpg, with emissions of 147g/km to make them a sound choice for those who want to enjoy hybrid driving.
Equipment for the S-Max car lease
Standard equipment for the S-Max car lease includes LED daytime running lights, rear privacy glass and 17-inch alloy wheels.
Safety kit features rear and front parking sensors, lane-keeping assist, traffic sign recognition and there's an active speed limiter.
Drivers also get dual-zone climate control, along with an eight-inch infotainment system and a 10.1-inch digital instrument display.
Both the S-Max and the Galaxy use an ergonomic rotary gear shifting dial for selecting the gears, and there are driving modes to use when descending steep inclines or when towing.
The Ford S-Max hybrid car lease and the Galaxy have both gone on sale.