This is the impressive new entry model to the firm's all-electric contract hire offering, the Mercedes EQA.
It's also the first compact premium electric-powered crossover offering and beats the likes of BMW and Audi into the segment.
It has a lot in common with the excellent GLA, including the driving characteristics and comfort levels.
It also offers an eye-catching range of 301 miles, but the actual specifications have yet to be revealed.
Mercedes says that the EQA car lease choices will include all-wheel drive models and a version that will have an output of more than 200kW.
The carmaker is also highlighting that in order to boost the range of electric cars, it's not necessary to install ever-larger batteries for this, but to improve the car's systemic performance.
Alleviating range anxiety with the Mercedes EQA
There's also a big step to alleviating range anxiety with the Mercedes EQA.
That's because it will have 'navigation with electric intelligence' that will calculate the best route to a destination that takes into account battery charging times.
The system also takes into account the weather and topography, and will react instantly to traffic information and even to the driver's own style.
The contract hire car also has access to the world's largest vehicle charging network in three countries.
Mercedes EQA delivers more range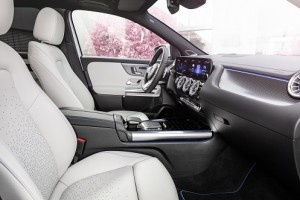 There's also a sophisticated thermal management system so any waste heat is redirected into the passenger compartment.
That means the driver does not have to reduce battery power in heating the cabin which will help boost the car's range.
Features for the EQA
Safety features for the EQA include active brake assist, active lane-keeping assist and autonomous braking.
There's also a pedestrian detection system should they or other obstacles, including stationary vehicles, appear in the EQA's path.
Mercedes says that the EQA car lease sees the battery sitting within a specially developed frame to protect it.
Occupant safety includes a range of airbags and an electric reversible seatbelt tension system.
The new Mercedes EQA is a premium alternative to the likes of the Kia e-Niro and the Volkswagen ID.3 and will be available for sale in February. Prices are yet to be confirmed but in Germany, it will cost around £42,000.