A new Ford Kuga hybrid has been unveiled to join the SUV's current combustion engine and plug-in hybrid line up.
The first contract hire models will arrive early in 2021, and the Kuga hybrid features a 2.5-litre petrol engine and a 1.1kWh battery.
Also, whenever the car is braking or coasting, the system will use regenerative charging to top-up the battery.
However, the most impressive offering from the new Kuga is that it can deliver more than 600 miles of pure-electric or petrol-electric driving between filling up – and without drivers having to recharge the battery.
That will be of interest to many company car drivers who rack up lots of mileage.
Ford says its new offering is unique in the Kuga line-up and delivers refinement and efficiency for drivers.
New contract hire Ford Kuga hybrid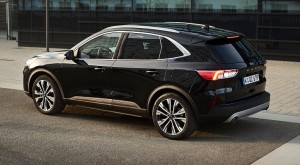 The new contract hire Ford Kuga hybrid is just one of 17 electrified vehicles from the carmaker to be unveiled before the end of 2021.
It now joins the Kuga plug-in hybrid as well as the EcoBlue hybrid – which is a mild hybrid offering – as well as the diesel and petrol engine choices.
The Kuga hybrid has been developed from the ground-up, so the platform was designed to incorporate the petrol-electric fully hybrid powertrain.
The interior space for this hybrid is the same as for its siblings, and it is a stylish SUV that offers a refined driving experience.
Ford says their new offering is a real alternative for those who use diesel engines for travelling long distances on a single tank of fuel.
The new Kuga also helps those who may be suffering from 'range anxiety' before committing to buying or leasing a hybrid car.
Ford Kuga hybrid car lease
The economy for the Ford Kuga hybrid car lease is 49mpg with emissions of 130g/km.
The pure-electric driving range for the Kuga is 35 miles – which should meet most commuters' needs.
Standard equipment includes a wireless phone charging pad, an eight-inch central touchscreen, a premium sound system and Ford's excellent Sync3 infotainment system.
Safety equipment includes adaptive cruise control, speed sign recognition and there's a parking assistance system for fully automated parking.
Also, the new Kuga features the firm's new lane-keeping system that has blind spot assist – a first for a Ford car in the world.
There's no doubt the new Ford Kuga hybrid will be a popular car leasing choice for those who are wanting to enjoy an electrified powertrain, and who want the reassurance of a petrol engine too.