The impressive Jaguar F-Pace SVR has been improved and updated for 2021 with a range of upgrades.
Jaguar has also tweaked the chassis and boosted the torque to improve performance.
The revamped model follows the recently improved F-Pace standard model and the SVR costs from £77,595.
The price tag may make the F-Pace SVR an attractive contract hire alternative for many drivers.
Changes to the F-Pace SVR
While many of the changes to the F-Pace SVR are subtle, there are a lot of them.
They include the chassis, drivetrain, engine and various onboard technologies.
The aerodynamic efficiency has also been boosted.
The biggest change is the new front bumper that has larger air intakes than it did before.
The front splitter for the SVR is also flatter and wider and will help reduce aerodynamic lift by 35%.
The F-Pace SVR as a contract hire car
That's a reassuring statistic for many drivers who are considering the F-Pace SVR as a contract hire car.
That's because the 5.0-litre supercharged V8 engine under the bonnet has been tweaked.
It still develops 542bhp but there's extra torque with a peak of 700Nm.
That's a lot of power which is delivered to the wheels using an improved eight-speed automatic transmission.
For those considering leasing the SVR, the 0 to 62mph sprint time is just four seconds, with a top speed of 178 mph.
Tweaks make the SVR a pleasant car to drive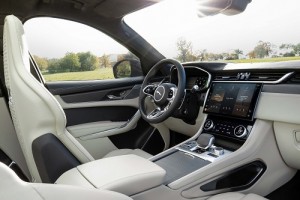 The driving tweaks make the SVR a pleasant car to drive, with new suspension bushes and retuned adaptive dampers.
These improvements will be felt particularly when driving at low speeds and the steering response has also been improved.
The dashboard has also been redesigned and there are new heating controls.
The well-designed cabin consists of a mix of Alcantara and leather materials and the front sport seats will hug the driver and front seat occupant.
Jaguar has also installed its latest Pivi Pro entertainment system utilising an 11.4-inch display that's brighter and larger than the model before.
Leasing deal for the Jaguar F-Pace SVR
For anyone considering a leasing deal for the Jaguar F-Pace SVR, then it's worth checking the deals at First Vehicle Leasing because this is an impressive and great handling car to enjoy every day.