The ever-popular Vauxhall Corsa, and also the new Corsa-E, have been updated for 2021.
The Corsa is a popular car leasing choice and the carmaker has introduced a range of mechanical and cosmetic tweaks.
The small car is taking on the likes of the Volkswagen Polo and Ford Fiesta and the new revised version is available to order now.
And with the entry-level petrol model prices starting at £16,440, it's also worth checking out as a contract hire opportunity.
All-electric Corsa-e
Along with the Corsa, the all-electric Corsa-e has a new sporty trim.
The SRi Nav Premium model sits between the Elite Nav Premium and the SE Nav Premium trims.
The battery-powered car costs from £27,890 and Vauxhall has added rear privacy glass, 17-inch alloy wheels and sport seats.
There's also a new Elite trim for the petrol-powered Corsa which has the same level of kit as the current Elite Nav model – except there's no in-built satnav system.
Also, the Corsa SRi offers the firm's light pack as a standard feature which includes automatic headlights, LED the tail lights and LED fog headlamps.
There are also new two-tone 17-inch alloy wheels.
Powerful engine for the Vauxhall Corsa car lease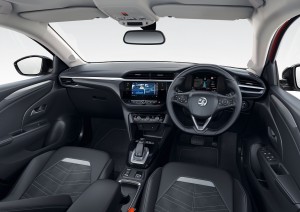 There's also a new powerful engine for the Vauxhall Corsa car lease with the turbocharged three-cylinder 1.2-litre unit. It develops 128 bhp with torque of 230Nm.
It's only available with the eight-speed automatic transmission but will help propel the Corsa to 62 mph in 8.2 seconds.
The power for the Corsa-e comes from a 50kWh battery pack and an electric motor producing 134 bhp.
Its sprint time is 7.6 seconds and the WLTP range is 209 miles.
This range is achievable, says Vauxhall, when the car is set to use Normal mode. The Corsa-e also gets Eco and Sport modes.
Maximum performance in the Corsa-e
With Sport, drivers get to enjoy maximum performance in the Corsa-e though the car's range is a tad shorter.
The Corsa-e's Eco mode will deactivate most of the comfort features in the car to boost the distance between charging.
The Corsa-e can also be recharged quickly using a 100kW rapid charging point and it will take just 30 minutes to recharge the battery to 80% of its capacity.
Other engine choices for the Corsa range include a 1.5-litre diesel engine with four cylinders, plus the standard three-cylinder 1.2-litre petrol unit.
Corsa and Corsa-e are great car leasing opportunities
The Vauxhall Corsa and Corsa-e are great car leasing opportunities, and the latest tweaks will help to underpin its popularity.