The fourth generation of the bestselling Skoda Octavia vRS is still an excellent car leasing opportunity.
The range-topper comes with higher levels of safety, more connectivity features and more comfort.
Skoda also highlights that the latest-generation model features more powertrain variants.
Skoda Octavia vRS iV
There's also a plug-in hybrid with the Skoda Octavia vRS iV, along with diesel and petrol engines.
The 2.0-litre TDI diesel unit delivers 200 PS and can be mated to either the front- or all-wheel drive models.
The 200-litre TSI petrol engine delivers 245 PS.
The engines are mated to either a six-speed manual box, or a seven-speed automatic DSG transmission.
With better aerodynamic profiling, the Octavia vRS has lower emissions and better fuel consumption.
New contract hire Skoda Octavia vRS
The top speed for the new contract hire Skoda Octavia vRS is 155 mph.
The driving dynamics use a limited-slip differential and the all-wheel drive models react within fractions of a second.
There's also a multi-plate clutch to deliver the power and the dynamic chassis control offers various modes to suit driving conditions.
Sports suspension for the Octavia vRS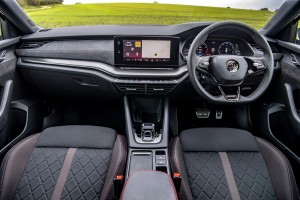 The sports suspension for the Octavia vRS is 15 mm lower than the standard model, and the adjustable damping improves the driving experience in Sport mode.
There's also progressive steering fitted as standard which will be felt with better handling at high speeds.
The Octavia vRS car lease also offers red brake callipers, black 18-inch alloys, full LED tail lights and full LED matrix headlights.
Standard kit also includes a 10.25-inch virtual cockpit and there's the additional sport layout too.
The infotainment system uses a 10-inch central display, and there's a digital assistant called Laura who responds to voice instructions.
Safety equipment for the Octavia vRS
The safety equipment for the Octavia vRS also now includes an innovative central airbag which is placed between the two front seats.
Skoda says this will reduce the impact between the front passenger and driver, especially if the car is involved in a side-on collision.
The interior of the new car has also been redesigned with front sport seats that have integrated headrests and the vRS logo dotted around the cabin.
The latest range-topper is a well-designed car that is packed with equipment and has a permanent Internet connection.
Whether drivers lease the hatchback or estate, the Skoda Octavia vRS delivers impressive levels of performance and it is an easy to live with car.