The popular Nissan Micra has been revamped with more equipment and technology.
The updated 2021 model has a streamlined trim line-up and has more options available to boost customisation.
The trims also offer better value for money and more standard equipment.
Nissan says that the new model and the simple trims will make it easier for potential contract hire drivers to understand which Micra will be their best choice.
Nissan Micra N-Sport
The Nissan Micra N-Sport has become a popular choice, and after starting life as a special version, it is now a permanent fixture.
With its stand-out gloss black front, side and rear finish it really does make its mark – the black mirror caps also help and so do the 17-inch black alloy wheels.
Other standard features include fog lamps and LED headlights with a smart interior that has a high-quality finish.
The Micra Tekna offers in-car entertainment technologies and some advanced driving features.
Among these are Nissan's intelligent mobility and their intelligent around-view-camera system.
There's also a better stereo system onboard the Tekna which feature speakers being added to the driver's headrest to deliver ultimate sound quality.
Nissan Micra car lease range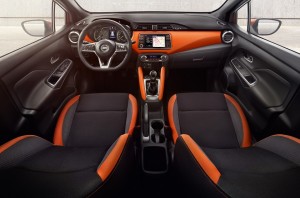 The engine for the Nissan Micra car lease range has also been boosted.
The 1.0-litre turbocharged engine complies with emissions standards and has better fuel efficiency.
Nissan also highlights that the new engine's torque range has been enhanced so should be a more rewarding car to drive around town.
That's because the Micra will not only be smooth and more responsive, but driver's won't need as many gear changes to progress.
For potential drivers wanting advanced safety technology then there are a range of items fitted to the Micra Visia trim, and those trims above.
These include intelligent ride control, hill start assist and when dealing with difficult conditions, there's the firm's intelligent trace control.
The safety pack is fitted as standard and includes intelligent forward emergency braking, traffic sign recognition and intelligent lane intervention.
Options for the latest Micra include an infotainment system with TomTom satnav – though this is standard on the Tekna.
Prices for the 2021 Nissan Micra start at £13,995 and the car is available to lease or buy now.