It has taken some time for the covers to be removed, but the new Volkswagen Golf R is an impressive contract hire vehicle to consider.
Not only is this the most powerful series production of the VW Golf yet, it also features a new system for harnessing the engine's power with the all-wheel drive system – a first for the marque.
The 2.0-litre TSI engine under the bonnet delivers 320 PS – with torque of 420Nm – to give a 0 to 62 mph sprint time of 4.7 seconds.
The order books have already opened, and the model features exclusive equipment and fresh design ideas.
New VW Golf R
The new VW Golf R features the firm's 4Motion 4×4 system with 'R-Performance Torque Vectoring'.
The system sees the engine's power being sent effectively by the seven-speed dual clutch gearbox to all four wheels for improved performance.
Volkswagen says that this combination will deliver a 'new dimension for driving dynamics', and owners and contract hire drivers of this car will have plenty of thrills.
It's this system that helps the Golf R deliver a top speed of 155 mph, which has been electronically limited.
For those who want a powerful model, then opting for the R-Performance pack will push this limit up to 168 mph.
Golf R is the flagship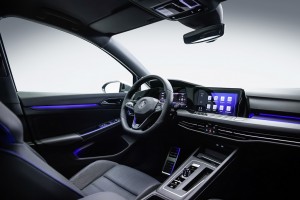 The Golf R is the flagship of the range and follows the recently unveiled GTE, GTD and GTI Golf models into our showrooms.
However, the new Golf is up against stiff competition including the Honda Civic Type R, and the BMW M135i.
It helps though that the VW Golf R has technology on-board to control the power effectively and keep the car on the road – and there are also systems onboard for better on-track performance.
This includes an electronic stability programme that features a two-stage system, and the traction control system is also a sophisticated offering.
Get this car on personal contract hire
Behind the wheel, the car will have six profiles including 'Race', 'Sport' and 'Comfort'.
There's even – a great result for anyone who leases the VW Golf R – a special configuration for racing on the Nürburgring – called the 'Special'.
This setting will adjust the car's dampers and the torque vectoring system so the undulating track of the famous testing ground can be enjoyed.
And if you want to show off with power slides, then there's a new 'Drift' mode to enjoy too.
If the Volkswagen Golf R appeals to you as a car lease, then enjoy this video: