The long-awaited fully electric Fiat 500 is heading to the UK – and it's a great car leasing opportunity.
Prices start at £19,995 OTR to make this all-electric offering the cheapest and most impressive small car of its type.
There are two battery options – a 24 kWh or a 42kWh battery – and the Fiat 500 delivers a WLTP range of 199 miles which makes it one of the longest ranges for any electric city car currently on sale.
Most models also feature an 85kW fast charging capacity.
Trim levels for the new Fiat 500
There are three trim levels for the new Fiat 500 for what is a city car that has been redesigned from the ground-up and uses an all-new platform.
The 500 is available as a hatchback capital or a cabrio.
There are three trims – Action, Passion and Icon with lots of equipment fitted.
The Fiat 500 Action includes a 24kWh battery and a 72kw motor to deliver a top speed of 84 mph. The 0 to 62 mph accelerating time is 9.5 seconds.
The battery's range is 150 miles and with the average commute of around 30 miles every day, means the Fiat 500 will only need charging every four days.
The 50kw fast charging system means the battery can be topped up in less than 10 minutes.
Standard safety equipment for the Fiat 500 includes drowsy driver detection, autonomous emergency braking and lane-keep assist. There's also traffic sign recognition.
All-electric Fiat 500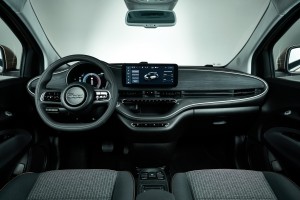 The new all-electric Fiat 500 also features various driving modes so drivers can tailor their car to suit their own style and requirements.
The Passion trim delivers the larger battery and a range of 199 miles, though Fiat says this will extend to 295 miles if the car is only driven in the city.
The battery powers the 87kW motor to produce 118 bhp with a top speed of 93 mph – and an impressive 0 to 31 mph time of just three seconds.
The fast charging system will take 35 minutes to reach 80% of battery capacity and taking five minutes to deliver 30 miles of range.
This model features smartphone connectivity, a 7-inch touchscreen plus a new infotainment system and a DAB radio.
Fiat 500 Icon trim
The Fiat 500 Icon trim delivers a range of 199 miles with a more impressive 10.25-inch 'Cinerama' display that includes the infotainment system and sat nav.
This high-definition touchscreen fits into the dashboard and is designed to help reduce driver distractions.
Again, there's a lot of equipment and extra kit including autonomous driving which many drivers may find useful, and it will be a cheap car lease to consider.
Orders for the impressive new electric Fiat 500 will open in December, and by March next year, the first customers in the UK will be receiving their new vehicles.