If the standard Golf GTI is not powerful for you, then the new Volkswagen Golf GTI Clubsport could be the perfect contract hire fit.
The latest generation of the Clubsport is the most powerful version yet.
The car's engine delivers an output of 300 PS with torque of 400Nm and with an innovative vehicle dynamics manager, the Clubsport produces an outstanding driving performance.
The GTI Clubsport follows in the steps of the new GTI, the GTE and the GTD, as VW updates its Golf range.
Golf GTI Clubsport marks the next chapter
VW says that Golf GTI Clubsport marks the next chapter in their tradition of producing high-performance GTIs.
The first Clubsport appeared in 2016 to help celebrate the sport car's 40th anniversary.
Now the sports car has improved driving dynamics and a boosted engine to enjoy.
There's a front axle locking differential that has been added as standard as part of the vehicle dynamics manager system.
The aim is to create a front wheel-driven sports car that delivers a precise and neutral drive. For those who want to go racing on a track, the Clubsport will deliver a superb performance.
Nürburgring driving profile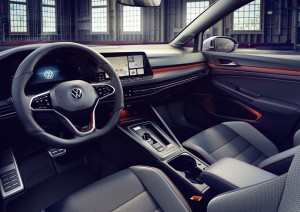 There's even a Nürburgring driving profile to help illustrate what this car can deliver, and there's no doubt the new GTI Clubsport will deliver a great time on the racetrack.
The front end has been customised to deliver a striking appearance, and there are large aerodynamic wings to deliver resistance to headwinds.
VW points out that the rear wing and front spoiler for their new Clubsport are not just design features – they will significantly boost the downforce to deliver performance.
A unique hallmark feature for the car is the two-part roof spoiler which certainly catches the eye.
Premium sport seats for this stylish car leasing choice
There are also premium sport seats for this stylish car leasing choice so the driver and passenger have the support necessary when cornering at speed. There's also a sports steering wheel that features perforated leather zones.
Drivers also get paddles for using the seven-speed dual-clutch DSG gearbox that is fitted as standard.
Other standard features include 18-inch alloy wheels and the is 10 mm lower than the standard GTI.
The Clubsport's sporty stance has been underlined with one side sills.
It's also worth noting that the first edition was restricted to just 400 units being produced, but Volkswagen says that they will increase production of its new Golf GTI Clubsport to meet demand.