Along with a stylish makeover, the specification and prices for the new Citroen C4, and the all-electric e-C4 have been revealed.
There's a new SUV-coupe styling for the popular vehicle, and regardless of whether drivers choose the all-electric or diesel or petrol versions, there's just one body design.
The C4 can be ordered now, and the first deliveries to customers will begin early next year.
Citroen says that the new C4 is designed to stand out in a competitive segment, and combines the 'dynamism' of the hatchback design while adopting SUV styling.
Plus, the new C4 and e-C4 have an impressive 31 combinations of body colours, as well as colour packs to choose from.
The Citroen C4 and e-C4
One development for the Citroen C4 and e-C4 is the introduction of progressive hydraulic cushions that are fitted as standard for the range.
This means the suspension now better controls the compression and rebound from uneven road surfaces to deliver a more relaxing and comfortable ride.
The Citroen C4 also makes for an interesting car leasing proposition with advanced comfort seats that are best described as 'sumptuous'.
The seats are great for long drives and are fitted as standard for optimum comfort levels.
Latest contract hire Citroen C4
The latest contract hire Citroen C4 also offers more space for rear-seat passengers – the firm says it is the best in class.
The standard C4 has four trim levels, while the all-electric e-C4 has three.
Power for the all-electric e-C4 comes from a 50kWh lithium-ion battery and a 100kW electric motor delivering 136bhp.
The official WLTP range is 217 miles for a single charge.
That's a sound proposition for those wanting a stylish modern car for their commute to work, or regular short journeys.
Engines for the new Citroen C4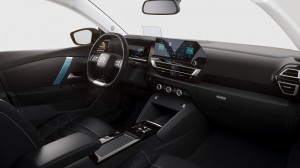 There's also a good choice of engines for the new Citroen C4 with economical petrol and diesel units mated to either a six-speed manual gearbox, or the firm's Eat8 8-speed automatic transmission.
Standard equipment for both models includes daytime running lights, 18-inch alloy wheels and a 10-inch high-res display for the infotainment system which is also smartphone compatible.
Safety equipment includes lane-keeping assist, speed limit information, rear parking sensors and driver attention alert.
The better spec models include a head-up display, live traffic information, LED interior lighting and two USB sockets.
The range-topper, the 'Shine Plus' trim, offers a premium hi-fi system, black leather and textile upholstery, an electric driver's seat, and a 'highway driver assist' system that uses camera technology to ensure the vehicle and its occupants remain safe.
The Citroen C4 and e-C4 have had their exterior redesigned because hatchbacks are declining in popularity with more of us switching to SUV-style crossover cars – either way, the Citroen C4 and the e-C4 make for an excellent car leasing choice.