While the Audi A3 Sportback has only just been unveiled, the carmaker has revealed that a plug-in hybrid version will go on sale later this year.
The 40 TFSI e plug-in hybrid will offer an all-electric range of 48 miles.
The announcement comes after the radical revamp of the Audi A3 was unveiled earlier this year with diesel and petrol engines, along with a mild hybrid.
Also, the new model is not entirely unexpected since Audi has already this year unveiled plug-in hybrid versions of its A6, A7 and A8. There are also plug-in hybrid options for the Q5 and Q7, as hybrids and electric cars grow quickly in popularity.
The A3 Sportback is the first of its compact models to undergo this process.
New plug-in Audi A3 Sportback hybrid
The new plug-in Audi A3 Sportback hybrid model features a 13kWh battery, and a 1.4-litre petrol engine with four-cylinders that produces 147 bhp.
That's coupled to an electric motor producing 107 bhp so there's a combined power output of 201 bhp using a six-speed automatic gearbox.
The offering means that the A3 Sportback plug-in hybrid can sprint from 0 to 62 mph in 7.6 seconds. Its top speed is 141 mph – and in all-electric guise, it is 87 mph.
However, the big attraction for the new A3 plug-in hybrid is for its fuel economy – Audi points out that the WLTP test cycle reveals that the potential economy is a wallet-friendly 283 mpg.
Car leasing friendly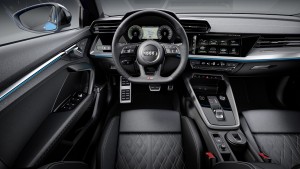 The emissions are also a car leasing friendly 34g/km to make the Audi A3 plug-in an environmentally friendly and cheap vehicle lease choice.
Charging the hybrid's battery at home will take around four hours, though it's quicker using public charging points and a Mode 3 cable delivering a much quicker charge time.
Audi has also introduced 'battery charge' and 'battery hold' settings to recapture or maintain the battery's current charge level as much as possible.
The new system works with the firm's drive select system so drivers can switch between auto, comfort and dynamic modes to tailor their electric driving experience.
There's also a power meter in the A3 hybrid's digital instrument cluster, and a 10.1-inch infotainment display that will reveal what the 'energy flow' options available are.
Prices for the Audi A3 Sportback 40 TFSI e
The on-sale date and prices for the Audi A3 Sportback 40 TFSI e have yet to be confirmed, but prices in Germany will start at around £34,000 – the A3 Sportback's entry-level price is £22,400 currently.