For anybody looking for lots of connectivity and powerful hybrid performance from their new vehicle, then the all-new Honda Jazz hybrid could be for you.
The firm has just revealed details of its e:HEV hybrid offering which has a combined electric and petrol power output of 109 PS and a useful 253Nm of torque.
Fuel economy for the new Jazz hybrid is 63 mpg, with emissions of 102g/km.
Along with an effortless driving experience, the responsive car offers lots of technology and remote services to help make it a practical and easy to live with choice.
Indeed, like many other carmakers, Honda has committed itself to delivering 100% of its range in Europe as all-electric by 2022.
New Honda Jazz hybrid is available
The new Honda Jazz hybrid is available in the summer and it's the first of the carmaker's offerings with an advanced hybrid powertrain.
There are two electric motors that are mated to a 1.5 litre petrol engine and the car uses an innovative fixed gear transmission with power control units so everything works harmoniously and smoothly.
The sprint time for the Jazz hybrid is 9.4 seconds to reach 62 mph and it will go onto a top speed of 108 mph.
There are three interchangeable driving modes and they are:
EV Drive: the lithium-ion battery is used for all-electric propulsion
Hybrid Drive: the engine delivers power to the electric motor to power the car
Engine Drive: the petrol engine is used to power the wheels using a lock-up clutch.
For most drivers in urban areas, the switch between hybrid drive and EV drive is seamless and most will not notice.
Get this car on personal contract hire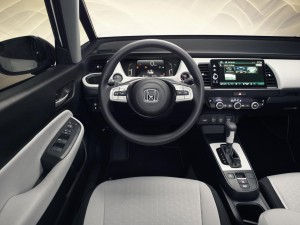 When driving the all-new Honda Jazz at high speeds, then drivers will have 'Engine Drive' to help deliver a peak power boost from the electric motor to improve acceleration when necessary.
Fans of the previous versions of the Honda Jazz will be pleased to know that it's still a very spacious car to enjoy with a boot capacity of 298 litres, which extends to 1,203 litres when the rear seats are folded flat. The hybrid drivetrain components are cleverly hidden without intruding into the cabin space.
There's also seamless in-car connectivity and the touchscreen uses familiar swipe controls from smartphones to be easily used.
The voice activated infotainment system offers parking locations, satnav and weather forecast.
The touchscreen also offers Honda's personal assistant to access various online services is activated by saying, "Okay, Honda".
Safety features have also been improved and include a new front wide-view camera to boost the driver's field of vision and mitigation braking to help detect and avoid cyclists and pedestrians.
There's also, a first for the Honda Jazz, lane keep assist and adaptive cruise control fitted as standard. The models also come with intelligent speed limit recognition, cross traffic monitoring and blind spot information.
The all-new Honda Jazz hybrid offers potential buyers an interesting addition to what has been a popular line-up for the carmaker, so expect to see lots of these on our roads from the summer.