The Audi e-tron 50 Quattro has been unveiled and it's a new entry level model for the all-electric range.
Audi says that it is an ideal partner for the current e-tron 55 Quattro model and should help broaden the range's appeal.
There are new Sport, Technik and S line specifications available with two electric motors producing 230K KW or 313 PS and delivering impressive torque of 540Nm.
This gives the stylish SUV a blistering turn of pace from a standing start and there is a realistic all-electric range of 190 miles. Helpfully, the battery can be recharged in just 30 minutes to 80% of its capacity.
The standard spec also includes the installation of a home wall charging box so the car is easy to charge and there's a new e-tron charging service subscription model available at no cost for one year.
The e-tron 50
There's no doubt that demand for all-electric models is growing and Audi aims to be at the front of the pack. And with new models such as the e-tron 50 then this is likely to happen with a well-made, well-designed car that is also well-equipped.
Audi says that most of its potential customers will be driving significantly less than its stated 190 mile range on a daily basis so makes it a practical and easy to live with choice for those wanting an all-electric car.
Along with 20-inch alloy wheels, contrasting finish bumpers and LED headlamps, the interior is impressively well-designed.
The front seats have leather upholstery and satnav is fitted as standard along with smartphone connectivity.
Some models have wireless phone charging and the S line offering has sport suspension, which is really a retuned version of the car's adaptive air suspension setup to deliver more grip and less body roll.
The S line also has 21-inch alloy wheels, privacy glass, brushed aluminium inlays and a three-spoke steering wheel.
Get this car on personal contract hire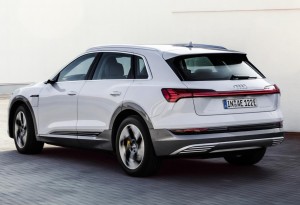 Drivers will also like an unusual arrangement – there are no door mirrors but virtual door mirrors instead which use cameras to project a mirror image onto a display in the cabin.
There's an excellent full-length panoramic sunroof and a list of upgrades includes an improvement to Audi's virtual cockpit.
As with other all-electric cars, the e-tron 50 features remote preconditioning, so drivers can pre-warm the cabin and motor before they get into the car.
For those who are looking for an all-electric and stylish SUV offering style and an excellent driving experience, then there's a lot to recommend the Audi e-tron 50 Quattro in what is an increasingly competitive segment.