This is the impressive and high performing Mercedes-AMG GLB 35 4Matic which is the flagship for the range and will arrive in showrooms in the summer.
With prices starting from £48,665, drivers will get to enjoy a well-designed and well-crafted car that will sprint from 0 to 62 mph in just over five seconds.
Unlike the GLB sibling, the GLB 35 has five seats as standard, though a third row can be selected from the options list so it becomes a seven-seater.
Other options worth considering include the firm's electronic adaptive suspension if you really fancy putting this impressive car through its paces.
Engine for the Mercedes-AMG GLB 35 4Matic
Under the bonnet, there is a 2.0 litre turbocharged petrol engine for the Mercedes-AMG GLB 35 4Matic that produces a hefty 302 bhp.
This is the same unit that is found in the A 35 hatchback and saloon and there's also the firm's 4Matic all-wheel drive system.
Speed is controlled by the eight-speed dual clutch automatic transmission and the all-wheel-drive delivers the grip necessary to enjoy the power.
Economy for the GLB 35 is around 33 mpg with emissions of 171g/km.
Equipment for the Mercedes-AMG GLB 35 4Matic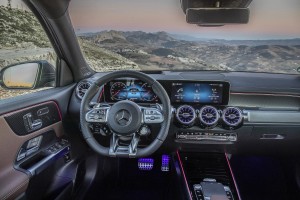 Equipment for the Mercedes-AMG GLB 35 4Matic include the much larger AMG-specified brakes along with adaptive suspension for boosting cornering.
However, it is unmistakably an AMG with the firm's body kit and aggressive front grille, along with a new diffuser and a larger exhaust.
The GLB 35 uses 20-inch alloy wheels and the wheel arches are also slightly flared when compared with the standard Mercedes model.
Other kit includes aluminium accents and an AMG flat-bottomed steering wheel that has gearshift paddles.
The seats are more supportive and sportier and as well as been electrically adjustable, they are available in either two-tone or black leather.
The interior ambient lighting system offers 64-colour choices and there's a premium stereo system to enjoy.
Get this car on personal contract hire
Drivers will also have climate control, a reversing camera and keyless go.
There are also two large infotainment screens with AMG specific menus and smartphone connectivity.
Other features include a smartphone app so the car can be unlocked or locked wherever it is parked and buyers also get a subscription to a music streaming service.
Drivers also get rear cross traffic monitoring, blindspot monitoring as well as evasive steering assist to help drivers avoid an unseen obstacle.
There's a lot to like about the new Mercedes-AMG GLB 35 4Matic which has lots of style and equipment for the price tag, so expect to see lots of them on our roads from summer.