The prices and specs for the new BMW X1 xDrive25e have been revealed for the impressive plug-in hybrid SUV.
BMW says its new creation is capable of economy of up to 141 mpg with an electric-only driving range of 35 miles.
That's useful for most people commuting to work or for going to the shops and the same offering will be coming with the new X2 hybrid later in 2020.
The new X1 hybrid is available to order and deliveries begin from March. The price tag is £38,200.
Engine for the hybrid BMW X1 xDrive25e
The engine for the hybrid BMW X1 xDrive25e is a 1.5 litre three-cylinder turbocharged petrol unit that produces 123 bhp.
With the electric motor generating 94 bhp, which is mounted to the rear axle, the combined output is an impressive 217 bhp.
The engine's power is sent directly to the front using a six-speed torque converter automatic transmission with electric power being delivered to the rear wheels.
This means drivers get to enjoy front- and rear-wheel drive capabilities as well as four-wheel grip, depending on the selected driving mode.
The excellent hybrid has a top speed of 120 mph with a 0 to 62 mph sprint time of 6.9 seconds.
Equipment on the BMW X1 xDrive25e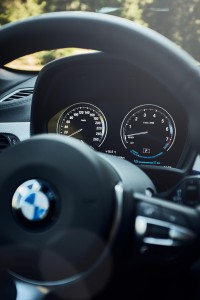 There's also a lot of equipment on the BMW X1 xDrive25e including acoustic pedestrian protection which is fitted as standard.
One of the issues for electric car drivers is that with near-silent operation, cyclists and pedestrians are unlikely to hear them.
This is where the new acoustic protection comes into its own and at speeds of up to 90 mph, the BMW X1 produces an unmistakable sound to alert other road users that the car is approaching.
Other standard kit includes two-zone automatic air conditioning, 17-inch light alloy wheels and when using a smartphone app, it's possible to precondition the cabin as other electric car users can do. This will be a boon on a cold winter's day when the cabin will be warm when you need to set off.
Get this car on personal contract hire
The agility of the SUV is boosted by the high-voltage battery which is placed beneath the rear seats and helps deliver a low centre of gravity.
There's a good boot size of 450 litres and with the rear seats folded flat, this increases to 1,470 litres.
The latest model means that BMW is among the front runners in delivering electric mobility and by the end of next year, they say, one in four of their cars will feature an electric drive. By 2025, this figure will reach 33% and around half of BMWs sold by 2030 will have an electric drive.
Essentially, the BMW X1 xDrive25e offers a stylish and impressive SUV and for those wanting a large agile vehicle that is cheap to run, then this could be for you.