It was one of the first cars to start the trend towards compact crossover SUV's, and the new Nissan Juke claims to be the most connected ever made by the carmaker.
When the British-built Juke was launched 10 years ago, it found a niche with buyers and has been copied widely ever since. Indeed, the car has managed to shift 1.5 million sales around the world and the model will still be built in Sunderland.
Engine choice for the Nissan Juke
There's only one engine choice for the Nissan Juke from launch, but it's a highly advanced powertrain and is a downsized 1.0 litre turbocharged petrol engine.
It is economical and responsive, and it's the first time that buyers have been able to specify a Juke with a 7-speed dual-clutch automatic transmission. There are also paddle shifters available or the transmission can be fully automatic.
While the engine has three-cylinders, it delivers 117 PS and has torque of 180 Nm so delivers decent levels of performance.
The fuel economy has also been improved with this new generation and owners should expect around 48 mpg, though it is slightly less for the automatic transmission models.
Another advantage of having the automatic transmission is that the firm's advanced ProPilot technology can be selected, which will help relieve stress in heavy traffic or on a long commute with a system controlling the car's acceleration, steering and braking.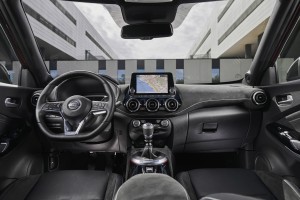 Reasons that the Nissan Juke became popular
One of the reasons that the Nissan Juke became popular is down to its fun handling and the all-new chassis delivers a refined and rewarding drive.
The Juke has various driving modes, so the car's performance can be adjusted depending on the driver's mood or the road which means the throttle, for example, can be altered to suit a more sporty performance if necessary.
Like many new cars being launched, the new Nissan Juke has a raft of advanced driver assistance technology systems on board, plus infotainment options.
Among the features is intelligent speed assist, intelligent emergency braking with cyclist and pedestrian recognition along with traffic sign recognition. There's also intelligent lane intervention, blind spot monitoring and rear cross-traffic alert.
The blind spot function is being premiered for the first time by Nissan and will warn a driver when there's a vehicle hidden from their view when driving alongside them and the Juke will help guide the driver back into their lane in order to prevent a collision.
Get this car on personal contract hire
The Juke is also a well-connected vehicle with an advanced infotainment system, and from early next year in-car Wi-Fi. There's also an 8-inch touchscreen infotainment system with some models having sat nav.
The system also enables drivers to send a destination to the Juke's navigation system by simply speaking into their smartphone.
While the compact crossover SUV segment has become increasingly competitive, there's still a lot to recommend the Nissan Juke, which is on sale now with deliveries starting in November.