The Volvo S60 is one of the carmaker's most popular offerings and now it is available with a plug-in hybrid powertrain option.
The hybrid is available in the exclusive R-Design Plus trim – with the T5 petrol engine also now available in this trim too.
Other models feature improved premium materials in the interior, including leather upholstery, driftwood interior inlays as well as heated and cooling seats.
Engines for the Volvo S60
Engines for the Volvo S60 now sees the current T5 turbocharged unit producing 250 HP being joined by T8 twin-engine plug-in hybrid which has all-wheel drive.
The 303 HP from the petrol engine is now boosted with the 87 HP from the electrical motor for a combined output of 390 HP.
This will see performance for the hybrid delivering a 0 to 62 mph sprint time of 4.6 seconds.
The all-electric range is up to 36 miles and emissions are from 36g/km. On the combined cycle, fuel economy for the hybrid is an impressive 177 mpg.
The T8 twin-engine, as with the T5, is mated to an eight-speed automatic transmission.
Trim levels for the Volvo S60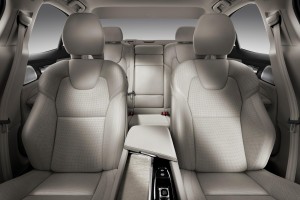 The trim levels for the Volvo S60 will see the R-Design Edition being replaced by the R-Design Plus and there's a new offering with the Inscription Plus variant.
The big difference for drivers is that the R-Design Plus offers a focus on the driving experience and that's down to stiffer springs and thicker anti-roll bars.
The ride height is also lower and other features include a head-up display, a choice of alloy wheels, gearshift paddles and part leather sport seats.
The Inscription Plus trim delivers more luxury and what is definitely a Scandinavian-inspired interior.
The S60 also features adaptive dampers so drivers can select how firm the suspension needs to be to deliver the kind of dynamics to meet their personal driving preferences.
Get this car on personal contract hire
This new offering is built in the US and it's the first modern Volvo that will not be available with a diesel engine option.
Part of this is down to the firm's commitment to electrification but it still features lots of occupant protection technology.
The new models for the Volvo S60 are available now from £37,935 on the road and it still delivers the luxurious and comfortable drive that it has become renowned for.