The covers have been lifted from the new Vauxhall Astra and it's going to be an impressive offering.
Along with higher comfort and practicality levels than its ever had before, it's also packed with state-of-the-art technology.
Vauxhall also says the new Astra will be one of the most aerodynamic cars available.
Along with improvements to the handling and technology, fuel consumption and CO2 emissions are up to 20% better than the model it replaces.
Engines for the Vauxhall Astra
There's a range of new engines for the Vauxhall Astra, including a new 9-speed automatic transmission.
The turbocharged petrol units have three-cylinders and consist of 1.2 litre or 1.4 litre choices. The power outputs range from 110 PS to 145 PS and deliver performance and efficiency.
The engines and mated to either a six-speed smooth shifting manual gearbox or a seven-speed continuously variable transmission.
There's also a 1.5 litre diesel unit with three-cylinders available producing either 105 PS or 122 PS. The engines feature an electrically-activated turbocharger to deliver a power boost more quickly.
Economy for the diesel engines will be around 65 mpg and for the petrol unit drivers can expect 60 mpg.
Technology features for the new Vauxhall Astra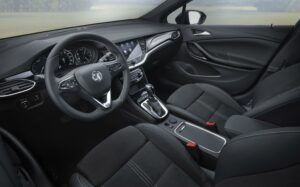 The technology features for the new Vauxhall Astra include a digital front camera which will recognise vehicles and pedestrians to boost safety.
The Astra will also have traffic sign recognition and some models will have a rear-view camera to monitor traffic behind the car.
Plus there's a new satnav system and infotainment offering.
Among the options is the e-call emergency system so drivers simply press a red button on the dashboard to call for help or if the airbags have been deployed and the seatbelt tensioners activated, then the system will make an emergency call automatically.
Get this car on personal contract hire
Comfort levels are high on the newly designed Astra with wireless charging for smartphones and a top end sound system fitted on most models.
Some models also come with a heated windscreen to make driving in winter more comfortable and safe.
However, it's for the aerodynamic work that will make the Astra standout and along with exterior design improvements, there are other nifty features including deflectors at the rear and a system to close parts of the radiator grille when necessary.
There will be a lot of interest in the new Vauxhall Astra when it's officially launched and it is competing in a tough segment but there's still a lot to like about the new offering.