The all-new Ford Focus ST really delivers when it comes to impressive abilities and it's packed with sophisticated technology too.
The new offering will sprint from 0 to 62 mph in just 5.7 seconds, with the 2.3 litre EcoBoost engine delivering faster acceleration than the current offering.
To boost performance levels, there's twin scroll turbocharger for anti-lag and the impressive launch control delivers excellent performance from a standing start.
The driving dynamics uses an electronically controlled limited slip differential and behind the wheel, the Focus ST is 12% more powerful than the current model – it's actually 0.8 seconds quicker. The petrol engine produces 280 PS, that's 30 PS more than the model it replaces.
However, the new offering is not just about driving as quickly as possible in a straight line and delivers improved levels of performance across a range of surfaces.
Ford Focus ST's cornering abilities
Indeed, the Ford Focus ST's cornering abilities have also been improved and there's a choice of a seven-speed automatic or six-speed manual transmissions to help deliver the speed when necessary.
The continuously controlled damping technology will monitor the suspension, the steering, the car's body as well as braking inputs every 2 milliseconds and then adjust the responses to deliver ride quality and dynamics.
The damping has three preset levels that help support the selectable drive mode, including sport, normal and track modes.
The brakes are also powerful in the new model to deliver greater stopping distance and there's a sophisticated electric brake booster that will help build brake pressure more quickly so the driver will be reassured that when they need to, the ST will come to a stop as quickly as possible.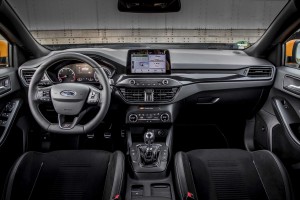 Estate versions of the Ford Focus ST
From the autumn, the Blue Oval will unveil five-door and estate versions of the Ford Focus ST.
The maximum speed for the 2.3 litre EcoBoost ST mated to a six-speed manual box is 155 mph with a combined fuel consumption figure of 36 mpg.
For those interested in the 2.0 litre EcoBlue model mated to a six-speed manual box then the top speed is 136 mph, the 0 to 62 mph sprint time is 7.6 seconds but the fuel economy is an impressive 60 mpg.
Get this car on personal contract hire
For many car fans, the Ford Focus ST really does deliver excellent levels of performance around town and on tracks and it's a comfortable car to drive with incredible response and technology to help keep the driver and occupants safe.