Thousands of potential customers have already expressed an interest in the new Mini Electric which has been officially unveiled.
With the order book opening later this year, the first deliveries will begin in early 2020.
The Mini Electric will be built in Oxford at the Mini factory and deliver Cooper S levels of performance.
Based on the three-door Mini Hatch, the new Mini offers the same timeless design appeal and go-kart handling.
Along with zero emissions and cutting-edge powertrain technology, it delivers hot hatch performance and will sprint from 0 to 62 mph in just 7.3 seconds.
Price for the new Mini Electric
The list price for the new Mini Electric, after the plug-in car grant has been applied, will be from £24,400.
Standard equipment for the new electric vehicle will include connected navigation with real-time traffic information and a new digital dashboard. There are also new tail lights and headlights.
To help the car stand out from others in the Mini line-up, there will be an embossed Mini Electric logo on the side scuttles as well as the radiator grille and tailgate.
The charging plug is located where the petrol filler would be and the battery capacity is 32.6 kWh. The motor is the latest BMW offering which will deliver 184 HP with torque of 270 Nm. The top speed is limited to 93 mph.
Mini Electric complies with a new EU law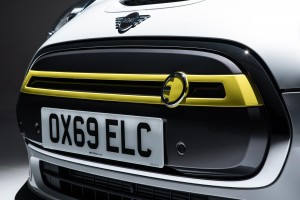 The Mini Electric also complies with a new EU law and is fitted with acoustic pedestrian protection when being driven at low speeds so there's a distinctive sound created via a speaker system for pedestrians to be aware that the car is present.
Mini has also introduced new suspension technology with the centre of gravity being 30 mm lower than the Mini Cooper S to deliver that go-kart driving ability that owners love.
The Mini also has dynamic stability control to deliver improved traction and when driving at speed from tight corners.
The new digital dashboard features a 5.5-inch colour screen to give information of the battery's charge level and vehicle speed.
The dashboard will also offer tips to extend the car's range by the disabling various comfort functions and looking to boost energy regeneration.
Get this car on personal contract hire
For those looking to order a new Mini Electric, there are three trim levels to choose from with various body colour and wheel options, plus drivers can select heated seats, a rear camera and a driving assistance pack.
The top end trim offers parking assist, a head-up display and a panoramic sunroof. The boot offers 211 litres which, with the rear seats folded down, extends to 731 litres.
There's no doubt that this first Mini Electric will prove to be a popular choice, particularly for those who are looking for a comfortable all-electric car for their commute with the excellent handling and styling features being retained.