It looks like the start of a new golden era for the excellent BMW 1 Series with the all-new model delivering practicality and technology.
The impressive car is now in its third generation with a dynamic design and more space on board.
Along with superior performance levels, there's also a long list of cutting edge technology for drivers to enjoy.
And while it has a similar footprint to its predecessor, the cabin is larger and has a fresh design.
Other new design features include a new headlight arrangement, a 'shark nose' and BMW's kidney grille is bigger.
Engines for the new BMW 1 Series
From launch, the engines for the new BMW 1 Series will include three diesel and two petrol engines.
BMW says they deliver more power and better fuel economy, along with lower exhaust emissions.
The entry-level 118i has a 1.5 litre three-cylinder engine producing 140 HP and a top speed of 132 mph. It will accelerate from 0 to 62 mph in 8.5 seconds.
The best performing option for those who like speed and agility is the 1 Series M135i xDrive with a 2.0 litre four-cylinder engine, producing 306 HP and a top speed of 155 mph. It will do the same sprint in 4.8 seconds.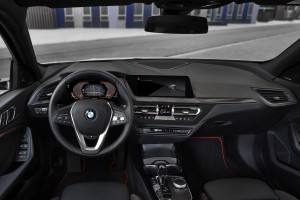 Equipment list for the new BMW 1 Series
The equipment list for the new BMW 1 Series includes driver assistance systems that combine camera images and data from radar sensors to help minimise hazards and help with steering and corrective braking.
The car also has cruise control with a braking function as standard and there's the option of active cruise control.
There's also a new head-up display option available to give acoustic and visual signals plus an innovative reversing the system so the car will automatically reverse into a confined space when required.
Get this car on personal contract hire
The options list also includes a panoramic sunroof, which creates a nice airy cabin and when opened there's a wind deflector to help reduce noise.
The car's increased body rigidity helps deliver the agility and with better braking capabilities and handling means the 1 Series will prove popular with drivers.
There are also three suspension options with the Sport's suspension being 10 mm lower than the standard spec, but keen drivers can also opt for the adaptive suspension, which features variable damper control to boost ride comfort suitable for the road conditions.
The all-new BMW 1 Series is available from September, with prices starting at £24,430.