The underrated Subaru Levorg has been revamped and features a new engine, fine-tuned suspension and more technology.
The estate car has permanent symmetrical all-wheel drive to deliver driver confidence wherever the vehicle is taken.
The exterior has also been refreshed for 2019 and it's a capable and comfortable car to drive around town and a good performer on long distance motorway journeys.
Subaru Levorg features a new petrol engine
The refreshed Subaru Levorg features a new 2.0 litre naturally aspirated petrol engine that works with the firm's CVT Lineartronic transmission.
It's an effective combination with the all-wheel drive and the responsive handling to deliver better levels of driver enjoyment and comfort.
Subaru has also revamped the front end with a sharper grille and new fog and headlight designs.
There are also 18-inch alloy wheels but it's for the cabin that makes the Levorg stand-out.
Subaru Levorg has styling upgrades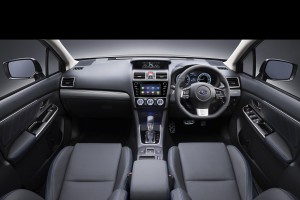 That's because the Subaru Levorg has had styling upgrades to the door trim, instrument panel and switches.
The driver's seat now has powered adjustable lumbar support and there's a new folding rear seat configuration to boost convenience.
Subaru has also fitted a 7-inch multifunction touchscreen that's intuitive and works with smartphones plus there's a DAB radio and the audio and infotainment offerings will meet the needs of what drivers expect today.
Alongside this, there's a useful satnav system and the cabin is a comfortable place to spend time.
Get this car on personal contract hire
While many may not be pleased that there's just one engine, it is a good performer though it is for the car's safety features that should really grab attention.
That's because the Levorg is one of the safest cars on the road with a raft of driver assistance technology, including lane departure warning, pre-collision braking and adaptive cruise control.
There's also blind spot monitoring and Subaru has retained the reversing camera and added a new front view camera – they've also fitted what they call a 'smart rear view mirror' to boost visibility for those areas that are normally obstructed from the driver's view – particularly when reversing.
Available in six colours, the new Subaru Levorg will be in dealerships from July.