This is the excellent new Land Rover Discovery Sport which the firm says is the most versatile compact SUV in the world.
There are five seats and an option for two more to make this a comfortable seven-seater for families that are looking for a modern and comfortable people carrier that has, literally, go-anywhere abilities.
The interior has also been transformed with more comfort and impressive levels of craftsmanship and the exterior has been revamped and now looks similar to the Discovery.
There's also more space on board and more technology too with the new vehicle available to order now from £31,575.
Land Rover Discovery Sport has a mild hybrid
Along with new engines, the Land Rover Discovery Sport has a mild hybrid system so there's a 48 V motor attached to a four-cylinder petrol or diesel engine.
This new hybrid system is the same as that for the Range Rover Evoque and will utilise electric power at speeds of less than 11 mph to save fuel.
Fuel economy across the petrol range is around 41 mpg and there is a more efficient plug-in hybrid version of the car available later this year.
Of the engines, the diesel unit producing 150 HP with emissions of 140g/km delivers the best all-round performance with economy of 48 mpg.
Connectivity for the Land Rover Discovery Sport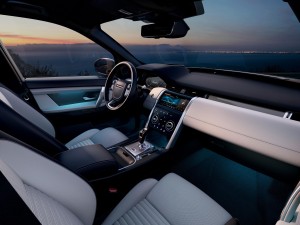 As with all new cars, the levels of connectivity for the Land Rover Discovery Sport are impressive. There's also a new smart rear view mirror so drivers can, at the flick of a switch, see what's going on behind by simply looking at their touchscreen.
While this is a fairly large car most drivers will be comfortable driving it and they are aided by a new 'ground view' technology so they can navigate high kerbs or rough terrain with a camera that is set underneath the car which also sends a live feed to the touchscreen.
There's also, for the first time, wireless charging for smartphones, a 4G Wi-Fi hotspot along with 12 volt and USB connections for all seats.
A reversing camera is also fitted as standard and there's the option of adaptive cruise control with other safety features including autonomous emergency braking and lane keep assist.
Get this car on personal contract hire
The new Discovery Sport is not only an attractive vehicle to look at but the interior has been revamped to be an impressive place to spend time.
The seats are comfortable and there's also an excellent system that sees the car learning the driver's preferences by using an artificial intelligence algorithm.
This algorithm will decide what the driver's preferences are for climate and music settings, along with seat positions and adjusting the massage function.
Each driver will have their own algorithm so the steering column will also be repositioned to suit their style whenever they get in the driver's seat.
The new Land Rover Discovery Sport is an impressive offering and enters a crowded market with excellent credentials for off-roading and delivering a very comfortable and easy car to drive around town.