It's been hailed as one of the best eco-friendly cars and the new Hyundai Ioniq really does impress.
First unveiled in 2016, it was then the first car in the world to offer three electric powertrains with its hybrid, plug-in hybrid and full electric options.
Now, Hyundai has upgraded the offering with extra technological features and a fresh exterior.
With other manufacturers about to launch, or who are still planning, their first eco-friendly vehicles, Hyundai is one of the market leaders with an all-round impressive offering.
The Hyundai Ioniq is an eco-friendly car
The aim of the new Hyundai Ioniq is to deliver an eco-friendly car that fits the needs of drivers.
So, the electric battery has been boosted from 28 kW to 38.3 kW so the car will go further between charges and there's also 36% extra energy storage capacity which delivers more than 182 miles of all-electric range.
The new motor delivers 136 PS and torque of 295 Nm and comes with a 7.2 kW on-board charger as standard.
For the plug-in and hybrid Ioniq, there's a 1.6 litre GDi direct injection petrol engine with four cylinders producing 105 PS.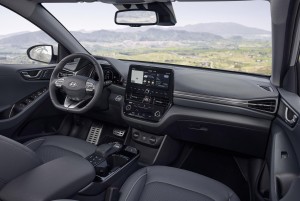 The Hyundai Ioniq's interior
And, along with the refreshed exterior, the Hyundai Ioniq's interior has also been significantly improved and upgraded.
Along with the option of four leather seat colours, the dashboard has also been tweaked to offer a futuristic look.
There's a new 10.25-inch touchscreen for controlling various items and assistance systems with the control buttons for the heating and air conditioning offering a more intuitive experience.
Get this car on personal contract hire
The Ioniq features the carmaker's 'Smartsense' technology package so the environment around it is constantly monitored to protect the driver from potential hazards.
Other features for the safety kit includes front collision warning along with avoidance assistance and pedestrian detection. The kit also includes cyclist detection for the first time along with 'Stop&Go' and blind spot collision.
However, it is for the eco-driving assistance system that will really help improve fuel economy for drivers, so they will use less fuel and also minimise their usage of the brakes.
The Hyundai Ioniq is, as the carmaker highlights, one of the best hybrid and all-electric cars currently available and has an established track record with lots of happy drivers so will bring peace of mind for those who are thinking of dipping their toe into a world without petrol and diesel engine cars.