It's not only spacious and sleek, the all-new Ford Kuga also has a comprehensive range of hybrid powertrains to choose from.
Along with its distinctive design, the Kuga offers new driver assistance technologies in what is the best version of the car ever.
The body has been streamlined to help comfort levels and create more space in the cabin and its body is 10% stronger than its predecessor thanks to new platform architecture.
Engines for the Ford Kuga
Though there will be a lot of attention for the engines for the Ford Kuga which also – for the first time in a Ford – feature the choice of full-, mild- or plug-in hybrid powertrains.
For those who opt for the plug-in model will find an all-electric driving range of 31 miles to help deliver fuel efficiency of 235 mpg and emissions of 29g/km.
Among the engine choices is the firm's 2.0 litre EcoBlue diesel unit, plus there are 1.5 litre diesel and petrol choices with the option of a new intelligent eight-speed automatic gearbox.
The petrol engine should return around 41 mpg with the choice of two power outputs and it also features the firm's cylinder deactivation system to save fuel.
The diesel engines are also good choices with economy of between 50 mpg and 59 mpg with the 1.5 litre EcoBlue unit offering the best performance around town and also on long journeys thanks to its engine producing 120 PS.
Ford Kuga is the firm's bestselling SUV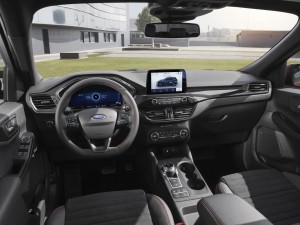 The Ford Kuga is the firm's bestselling SUV in the European market and is the most popular choice after the Fiesta and the Focus.
The firm shifted 153,800 units last year, a rise of 19% in sales, which means Ford is investing heavily in the all-new offering.
Along with more comfort and the driver assistance features, there's also an embedded modem, the firm's Sync3 infotainment system and wireless charging pad technology.
There's also a premium sound system on board and a 'free-form' LCD instrument cluster that's easy to read and more intuitive.
Get this car on personal contract hire
Safety systems include speed sign recognition, lane centring technology and predictive curve lights to help drivers see in the dark, as well as head-up technology to boost safety onboard.
There's also adaptive cruise control and pre-collision assist with each variant having a long list of standard equipment fitted.
It's also more comfortable car than its predecessor, with better interior design and comfortable materials to make the cabin a pleasant place to be.
However, the all-new Ford Kuga will undoubtedly be a popular choice as it offers a comfortable ride for what is an attractive SUV and the hybrid powertrains really will attract attention – and deservedly so.