The new Mercedes GLS is not only impressive but it's also the most luxurious and biggest SUV being produced by the German carmaker today.
In addition to having more comfort and luxury in the new model, there's also more space.
The wheelbase is around 60 mm longer to help develop this larger cabin with the extra space being enjoyed by those in the second row of seats. All of the seats are fully electrically adjustable so passengers can adjust the seating to suit.
It helps that the third row of seats can be lowered into the floor to boost boot space by up to 2,400 litres.
Engine range for the new Mercedes GLS
The engine range for the new Mercedes GLS consists of six powerful eight-cylinder units to help deliver the power necessary for a luxurious car.
There are two diesel units with the GLS 400 dMatic producing 330 HP and torque of 700 Nm – that's a lot of power available to propel the car to excellent levels of performance.
All of the engines are mated to a 9G-Tronic automatic gearbox with the spread of gears doing enough to deliver energy efficiency as well as ride comfort.
Mercedes have also added two network transfer cases that will deliver torque on demand where it is needed to boost safety and handling, particularly on corners.
Safety features for the new Mercedes GLS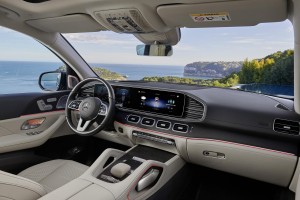 Other safety features for the new Mercedes GLS include active distance assist which will slow the car down in slow-moving traffic and tailbacks and there's 'active stop and go' to keep the car in lane and maintain a safe distance from the vehicle in front.
Mercedes is also adding trailer manoeuvring assist to the UK's GLS to make reversing easier for those who may not be so experienced with towing trailers.
The excellent levels of comfort come down to the air suspension, which is also fitted as standard. The car has a complex sensor system of sensors and algorithms that adapt to the road conditions by damping its characteristics when necessary.
Get this car on personal contract hire
However, Mercedes delivers lots of quality equipment and in the new GLS there's a rear seat entertainment system, along with heated seats and separate USB charging ports – including for the third row of seats as well.
Also fitted as standard is five-zone automatic climate control and a large touchscreen for controlling the infotainment system.
The multifunction sports steering wheel is also new and the cabin has been created with quality materials with some nice design ideas.
The new Mercedes GLS really does live up to the high expectations and, as Mercedes claims, it really is the S-Class equivalent for anybody wanting luxury SUV motoring.