All-electric vehicles are growing quickly in popularity and the all-new Peugeot e-208 will help meet this demand as it sits alongside the new 208.
It's open for orders now and will be released later this summer.
The Peugeot e-208 is powered by a 50 kWh battery
Under the bonnet, the Peugeot e-208 is powered by a 50 kWh battery and a 100 kW electric motor that should deliver a range of around 211 miles.
Along with plugging in the battery for charging, this charging facility can be remotely controlled using the MyPeugeot app.
There are three driving modes for drivers to enjoy with their electric car – eco, sport and normal to help deliver the performance drivers are looking for. The battery comes with a 100,000 miles or eight-year manufacturer's warranty.
The all-new electric offering sits alongside a choice of petrol and diesel engines including a 1.2 litre petrol engine with three cylinders and a 1.5 litre diesel engine with four cylinders. All of the engines offer decent levels of performance and economy.
Peugeot e-208 features lots of equipment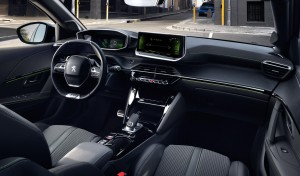 The all-new Peugeot 208 and the Peugeot e-208 feature lots of equipment and driving aids, including stop and go, adaptive cruise control and lane positioning assist.
For those who order the 208 with the eight-speed automatic transmission, then the car comes with full park assistant which will take care of the steering, braking and acceleration when it comes to leaving or entering a parking space.
There's also automatic emergency brake assist which will apply the brakes when it detects cyclists or pedestrians, whether during the day or night, in front of the vehicle.
Get this car on personal contract hire
There's also speed limit recognition and there's extra traffic sign recognition, so this system will also recognise no entry and stop signs.
The new 208 also features active blind spot monitoring with a system delivering course correction from speeds starting at 7 mph.
The all-new Peugeot 208 has undergone a serious exterior redesign but it is still recognisable as one of the carmaker's most popular offerings.
The new car delivers lots of space in the cabin and it promises good performance around town with proven engines delivering speed and economy over long distances.
The all-new Peugeot e-208 and the petrol and diesel versions of the ever-popular 208 are entering a competitive segment but they offer a sound alternative with nice driving characteristics and lots of driving comfort.