For those who want versatility and a lot of space, then the refreshed Honda HR-V delivers an impressive offering.
Along with excellent driving dynamics, the exterior delivers a tough stance while there is a sophisticated interior to enjoy.
As with all new launches today, there's an impressive suite of advanced technology on board to help drivers stay safe and enjoy great entertainment.
Engines for the Honda HRV
The engines for the Honda HR-V are powerful and efficient to help deliver the engaging drive.
There is the choice of the new 1.5 L i-Vtec petrol unit and a more powerful Vtec Turbo that has just been launched.
All of the engines are mated to an efficient six-speed manual box though the petrol engines have the option of automatic CVT.
The CVT simulates a seven-speed gearbox and with software optimises the gear changing.
Ride for the refreshed Honda HR-V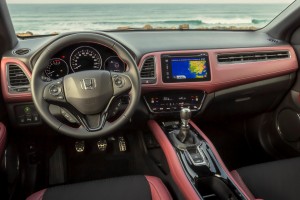 The ride for the refreshed Honda HR-V has been designed for European roads and the firm's synaptic damping control system is fitted to all models.
The system first appeared in the 2015 version of the HR-V and modifies the damping force to suit the driving conditions and road surface.
There's a stiff body shell to help deliver a solid grip and there's little in the way of body roll, which gives a secure feeling when driving.
There's also a great way to minimise understeer by using adaptive electrically-powered assisted steering.
Get this car on personal contract hire
Honda says it has developed the HR-V for those SUV drivers who want a more dynamic driving experience, but there's also a lot of technology on board.
There's an easy-to-use advanced infotainment system which utilises a 7-inch touchscreen which can be individualised to see preferences.
There's also the firm's Connect system so there are a number of pre-installed apps to personalise the driver's connected experience. Some models also come with satnav and a top end sound system.
The main differences between this and the Honda HR-V that is being replaced is the excellent interior and levels of connectivity, but it's still an underrated subcompact SUV that delivers an impressive level of driving enjoyment in an impressive package.