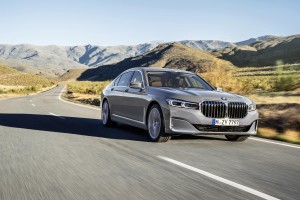 This is the impressive new BMW 7 Series which, the German carmaker says, will be the ultimate vehicle for those who are looking for the most luxurious driving pleasure.
There's a lot to like about the new car which has a range of new engines including diesel and petrol units using six, eight and 12 cylinders.
BMW is also adding a petrol-electric hybrid choice, which has an electric-only range of 36 miles.
Engines for the new BMW 7 Series
The engines for the new BMW 7 Series deliver better levels of performance and fuel consumption than the outgoing model.
There's an eight-speed Steptronic transmission that is fitted as standard on every model and there's the option of the firm's all-wheel drive system for some of them.
The top of the range model features a 6.6litre 12-cylinder petrol engine, producing 585 HP with torque of 850Nm.
The speed is limited to 155 mph and the car will sprint from 0 to 62 mph in 3.8 seconds. However, fuel consumption is around 22 mpg.
Interior for the new BMW 7 Series is impressive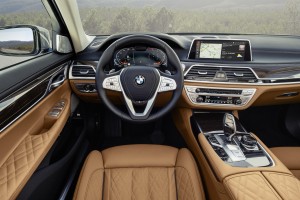 As should be expected, the interior for the new BMW 7 Series is impressive with lots of equipment including a hands-free phone system that utilises wireless charging.
There's also LED ambient lighting and a rear seat entertainment system offers two 10-inch HD displays complete with Blu-ray player.
Those in the back can also access satnav and the car's online functions as well as entertainment options using these screens.
There is also the latest version of the firm's Touch Command unit which is a 7-inch removable tablet screen that can be used outside of the car and from any seat to operate various comfort functions including climate control, interior lighting and seat adjustment.
The screen can also control the satnav, communication and infotainment options.
Get this car on personal contract hire
The changes to the new model aren't just cosmetic and the new model delivers improved handling and better levels of comfort.
Since the outgoing model is one of the most comfortable cars to drive, the new version has a lot to live up to. The 7 Series will be available in standard and long wheelbase variants and the exterior has been thoroughly refreshed.
Prices for the new BMW 7 Series start at £69,430 OTR and the new model goes on sale in April.