This is the impressive new Alfa Romeo Stelvio Quadrifoglio and while its name is something of a mouthful, the impressive SUV promises to set new benchmarks for the premium compact segment.
Drivers will get to enjoy the stylish design, its impressive technology and excellent levels of performance.
The Italian carmaker has introduced chassis domain control as well as active torque vectoring to deliver great handling while putting the vehicle through its paces so the driver can enjoy a great drive.
There's also a race mode which the improved suspension puts to the test and an integrated braking system featuring carbon ceramic discs helps bring the car to a stop.
The Alfa Romeo Stelvio Quadrifoglio
However, most interest from potential owners of the Alfa Romeo Stelvio Quadrifoglio will be for its engine which is a V6 2.9 litre bi-turbocharged petrol engine that is mated to an eight-speed automatic transmission.
This monster of an engine will produce 510 HP and has torque of 600Nm.
This means drivers will be able to sprint from 0 to 62 mph in just under four seconds and then onto 176 mph – a best in class speed limit.
In race mode, the automatic transmission will shift gears in 150 milliseconds which is helped by the one-piece aluminium paddle shifters that have been integrated into the steering column.
Alfa Romeo Stelvio Quadrifoglio has all-wheel drive fitted
It should come as no surprise that the Alfa Romeo Stelvio Quadrifoglio has all-wheel drive fitted as standard to help control all of that power reaching the tarmac.
Under normal conditions, the system will be able to transfer 100% of the torque to the rear axle and then transfer up to 50% of it to the front axle when the limit approaches.
Alfa says that the weight distribution gives it the best in class for power to weight ratio.
Get this car on personal contract hire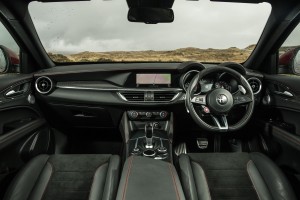 This is a well-designed SUV, which combines sporty styling with excellent aerodynamics and there's a luxury interior that has been crafted from the very best materials.
There's also lots of technology and connectivity on board, including satnav and an impressive infotainment system.
The new model pays tribute to the Quadrifoglio's racing heritage and its dynamic handling underpins this.
The Alfa Romeo Stelvio Quadrifoglio is a well-designed and well-made premium SUV that's entering a competitive market but there's a lot to like about it for those looking for dynamic handling and blistering pace.